I maintain that Russell Southwood and his Balancing Act newsletter and reports are some of the best material on pan-African technology and broadcast information that you can find anywhere. Their recent "Mobile apps for Africa: Strategies to make sense of free and paid apps" report is one of them, and here are some interesting tidbits from it.
The report is broken into three parts: device, developers and distribution.
Device
South Africa, Egypt, Nigeria, Morocco, Ghana, Kenya and Tanzania all are good markets for apps, due to their population, 3g pickup and smartphone penetration. It should be noted that the highest smartphone penetration is in South Africa at 10%, though the high-potential countries are expected to grow by 8-10% per year over the next 3-5 years.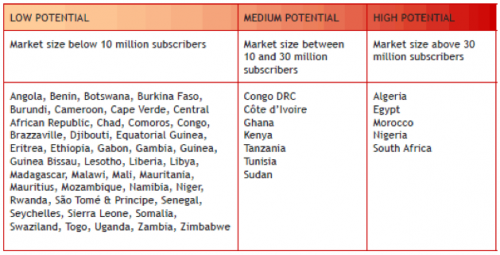 "Interestingly, infotainment activities score high off-line (using the phone's features) and online (mobile Internet)."
Balancing Act provides a very interesting visual of what the "Handset pyramid shift" looks like in Africa.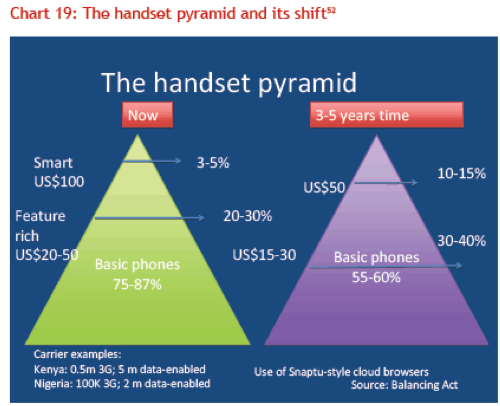 Developers
The development of smartphone applications in particular commercial apps will depend on the rate and level of smartphone adoption. Developers in countries like South Africa, Kenya or Egypt with encouraging smartphone penetration rates have more opportunities in terms of apps development and uptake by potential users.
The major international apps stores (Apple, Android, etc) have set a figure of 70% of the revenue generated by apps will be going to the developer. This is very good news for African developers because so far with SMS based content, the revenue sharing model is not in favour of developers since less than 30% of the revenue generated by the content is going to the author. It is African mobile operators that make the most out of them as they take a minimum of 50% of the revenue generated by SMS services. The major international apps stores also offer additional revenue to developers via advertising and in-apps purchases. These revenue streams are becoming more and more significant for developers.
Building into the next section on distribution is the issue that developers have with creating apps for the international app stores. It's very difficult, and often impossible, to sell apps on them and for African customers to buy them.
Distribution
The major consequence of the "success story" of the apps store is that it
establishes a distribution model for mobile content that breaks away from the monopoly and exclusivity that mobile operators have enjoyed so far on the delivery of services to their mobile subscribers. Today the mobile apps distribution ecosystem can roughly be divided in 4 main groups:
Operating system app stores
Handset manufacturer's app stores
Mobile operators' app stores
Independent app stores
So far, most African mobile operators have been little affected because smartphone penetration rates are very low in most African countries and also because African smartphone users still have access issues to the full portfolio of international apps stores.
The report goes on to express Balancing Act's thoughts on how mobile operators can get into and take advantage of mobile app stores, "While revenue potentials are promising what else do mobile operators have to consider if they want to roll out their own apps store?" The report establishes the following 8 recommendations:
Be OS agnostic
Know the devices on your network
Use "white label" apps store
Source international content from third party content providers
Don't forget about additional revenue streams
Build a strong local flavour to your apps store
Make apps affordable to your subscribers
Use carrier billing
And there's More
Unfortunately, I can't put all of the good stuff in this blog post. There are a lot more interesting points in the report, and you can buy it here. Amongst some of the best are:
What smartphones do South Africans want?
Nigerians love their BlackBerry
Examples of mobile apps start-ups companies in Africa
Morocco: Mobile internet users and penetration rate
Mobile Internet subscribers and market share per operator
Advertising and in-apps purchases potential income for developers