I'm out test-riding this Kibo 150cc motorcycle today (it's designed and assembled here in Kenya) asking boda boda riders what they think of it.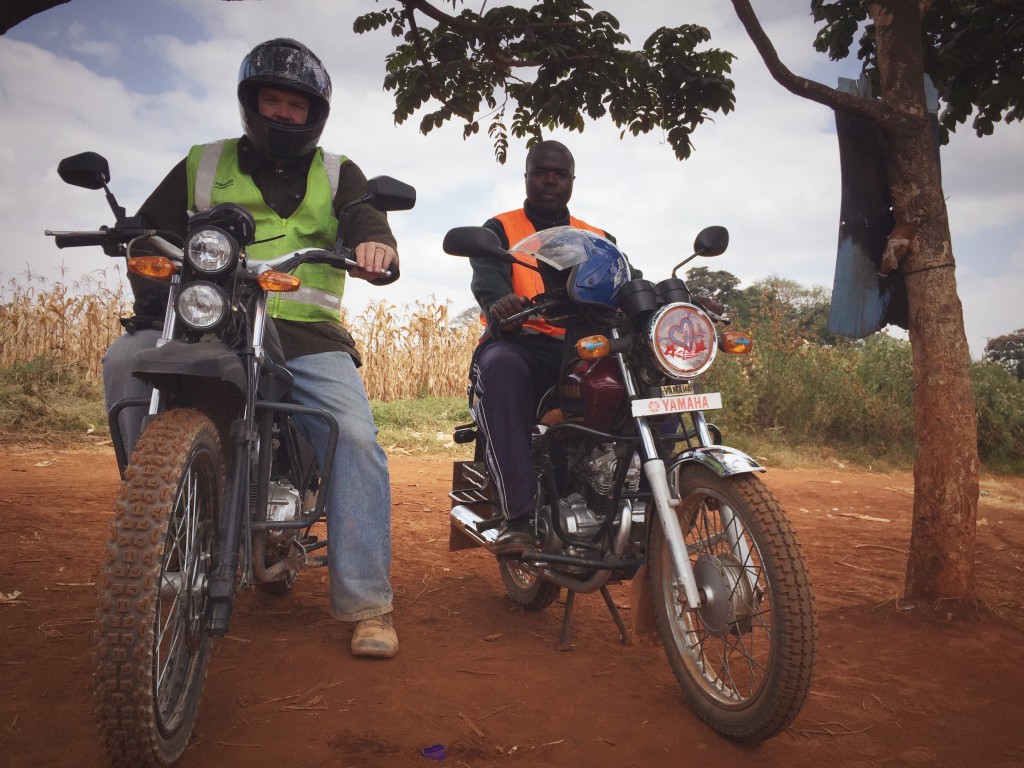 Since 2010 there has been a massive influx of motorcycles into Kenya due to the reduction in duty on bikes under 200cc, and until 2013 there was an extra exemption on import duties for motorcycles completely assembled in-country. Tens of thousands of young men have taken to the courier and two-wheel taxi professions due to this.
The staple of the boda boda (motorcycle taxi) drives is the cheap Chinese and Indian bikes usually around 100-150cc. The Bajaj or the TVS will sell for anywhere from 80,000 to 110,000 Ksh ($800-1,100), get approximately 40km/litre and carry a good 200 kilos. While not well designed or made, they do the job. Possibly as important as the pricing is the fact that you can get spares for them, and any tiny town worth its salt also has a piki piki mechanic in it.
Enter the Kibo
Henk Veldman is the Managing Director at Kibo Africa, and he's part of the parent company Koneksie out of the Netherlands that came up with the idea to design and create a motorcycle for Africa. Their focus was for a bike that could be better and safer than the lower quality bikes that had been spreading across the continent, while at the same time making sure they were as good as the Japanese imports (Yamaha, Suzuki, Honda), while still being cheaper than them. It's an interesting middle ground to choose, and the question the market will answer is if there is a customer base at that range.
A couple years ago they started to design what would become the Kibo motorcycle. Kibo is short for "kiboko" in Swahili, which means "hippo". We saw this from the very beginning, as they used the iHub UX Lab to do some of their initial work with people – and they've done a lot of user studies as can be seen on this video.
"This was done in close cooperation with motorcycle experts and the local end-user. The motorcycle would have to be sturdy enough to deal with many hours of usage in addition to the poor, often unpaved road surface. At the same time, it would have to be affordable."

"Our solution to the existing mobility problem in Kenya is a sturdy, safe and affordable motorcycle. We offer this motorcycle as part of a complete package, consisting of financing, training, a maintenance program and insurance."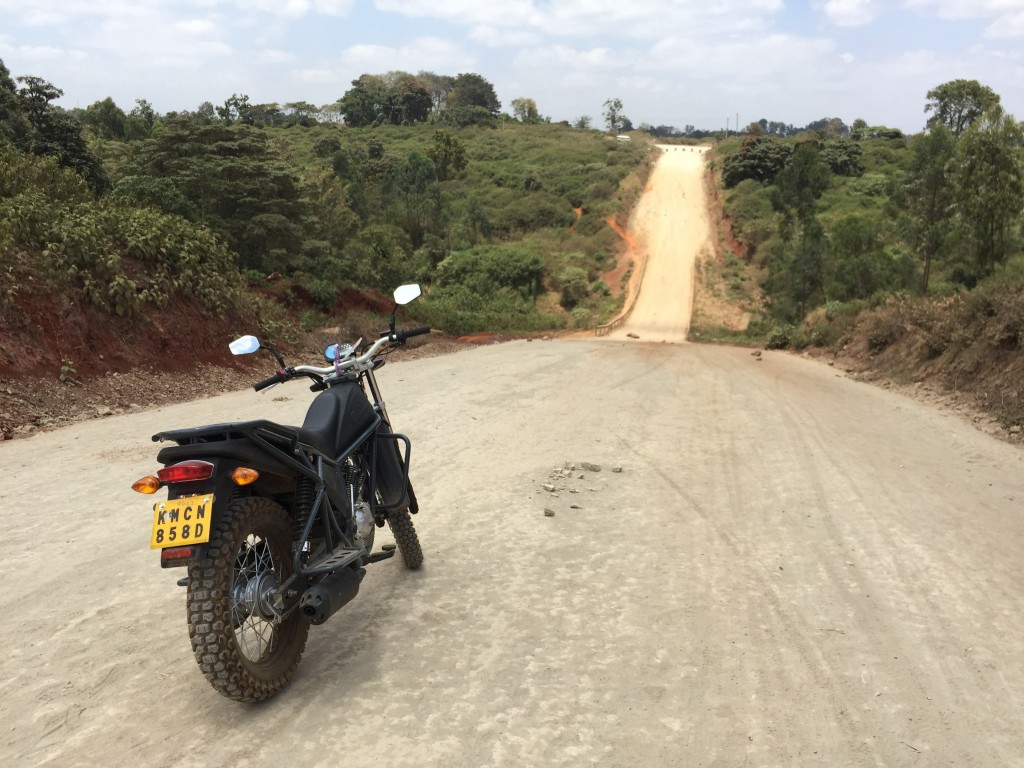 Basic information on the Kibo 150cc (K150):
Price: 395,000ksh ($4,000)
Includes: Insurance, advanced rider training, maintenance
Engine size: 150cc (made in Japan)
Fuel economy: 42 kilometres per litre
Weight loading: 250 kilos
Taking it out for a ride, talking to boda boda guys
Henk and team were kind enough to let me take out one of the prototypes this weekend. I spent time stopping and talking to a lot of boda boda drivers as well as taking it seeing how fast it went on tarmac and then how it handled on dirt roads.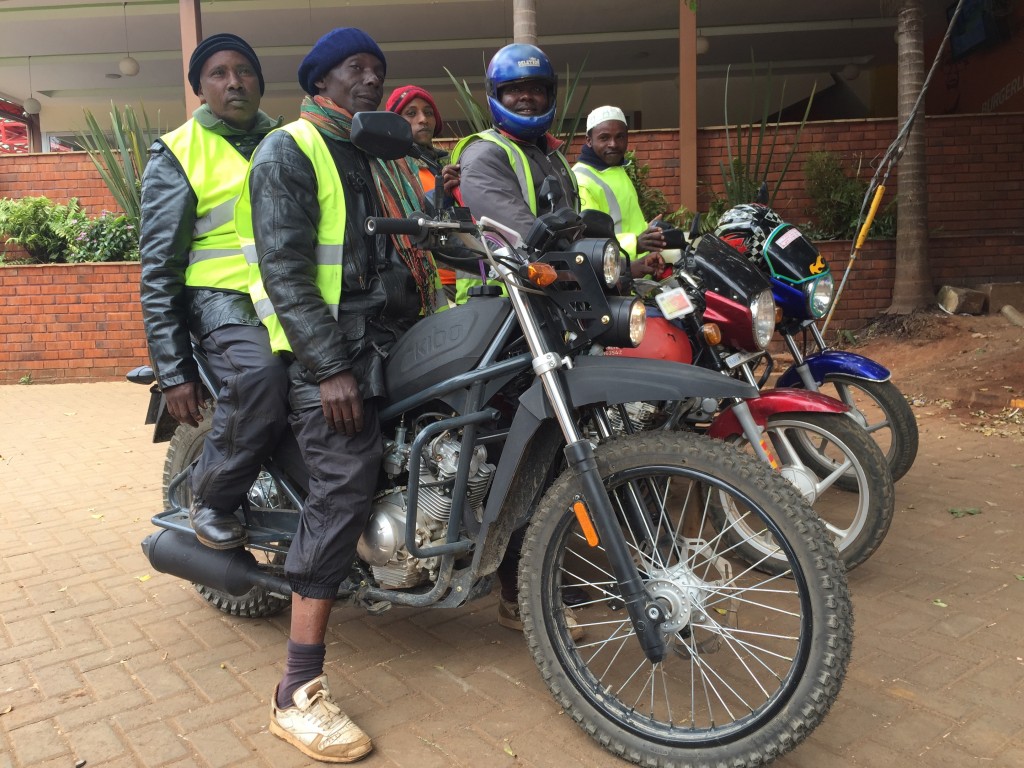 First impressions
My daily rider is a Suzuki DR 650, so it's hard to get used to something so small. However, it's really not that small – it's a much larger 150cc frame and bike than almost any other I've been on.
It rides smooth. Balance is great. Little vibration.
Since it has 5 gears, on a wide open road I was able to get it to 110km/hr. On a windy road past Gachie, I found it handled well on corners.
I took it on a few dirt roads. The ones that had been recently graded were fine, due to the nice tires, I could move quickly and had great traction. On the really rough dirt roads, I was surprised at how well the suspension handled the ruts and potholes. It really did do a good job and handled well.
My only beef on the test drive was being on one very steep hill, with big ruts and deep powder. After I slowed down, the bike just didn't have the power to take me up and I had to help it out with my feet. Now, I'm not a small guy, but I certainly am not anywhere near the 250 kilo weigh limit of the bike either. I'm checking with Henk, but I might have gotten one of the bikes geared for Nairobi (high), and not for rural areas (low).
Talking to Boda Boda Guys
As I mentioned earlier, I stopped and talked to over a dozen motorcycle taxi riders and a courier to see what they thought of the bike. I let four of them take the bike out for a spin as well.
Before they left, they were all a bit leery, mostly due to the price. Once they got back, they were excited about how smooth and nice it was compared to their bike, exclaiming "Iko sawa, iko poa" ("it's good, it's cool") to their counterparts.
Likes:
Sturdy frame was greatly appreciated by everyone, for carrying loads and for laying it over
The double lights were a big hit
Tires are strong and will do well on rough roads
Digital display
Suspension
Requests:
Passenger footrest needs rubber due to vibration
Move the muffler mid-pipe inwards so the driver doesn't burn their leg
A windshield or fairing
Tires are too big and expensive (10,000ksh [$100] as opposed to the 3,000ksh [$30] normally spent)
A larger tank would be nice
It's too expensive, no one sees this as something that they could buy individually, it's only good for businesses.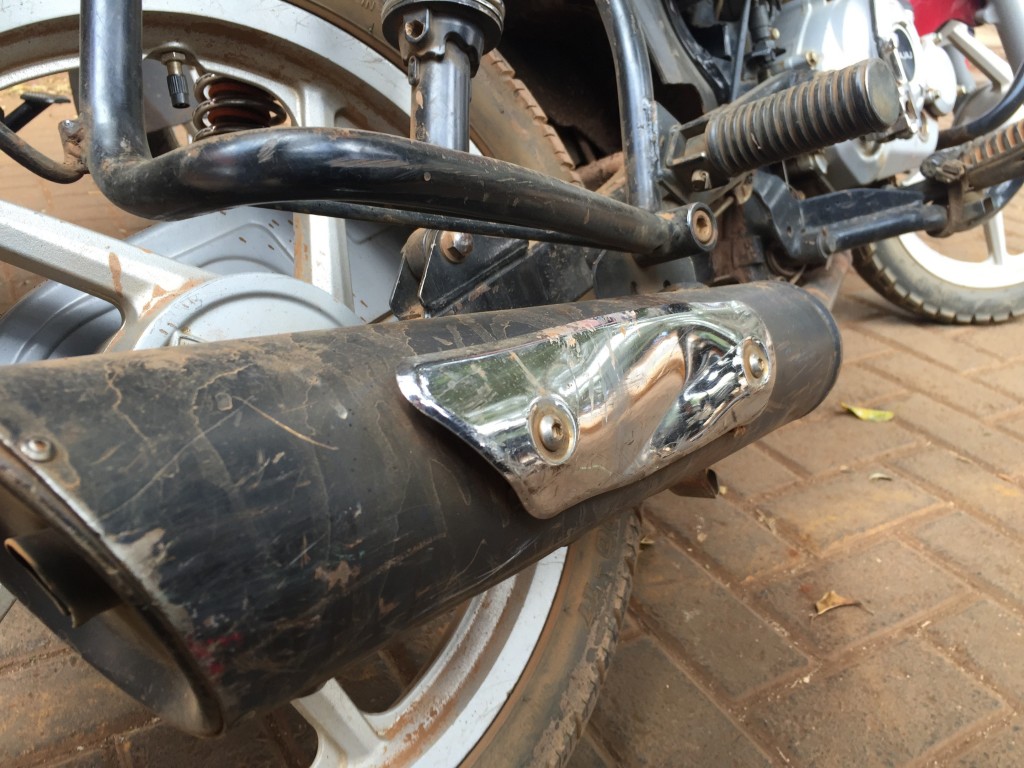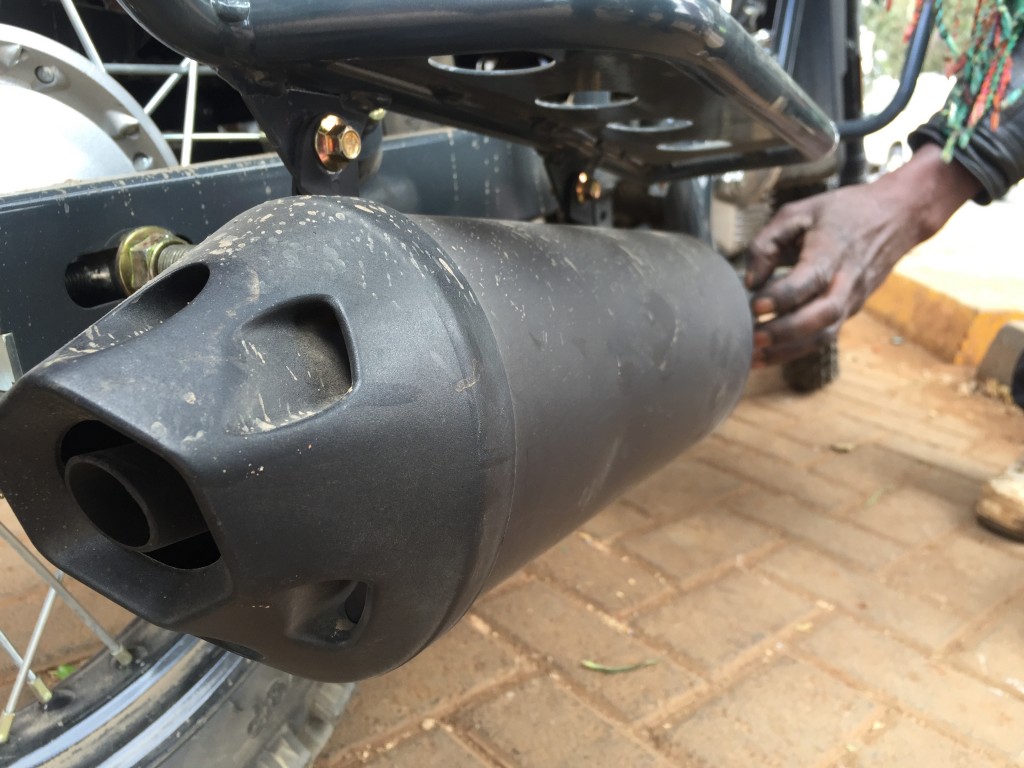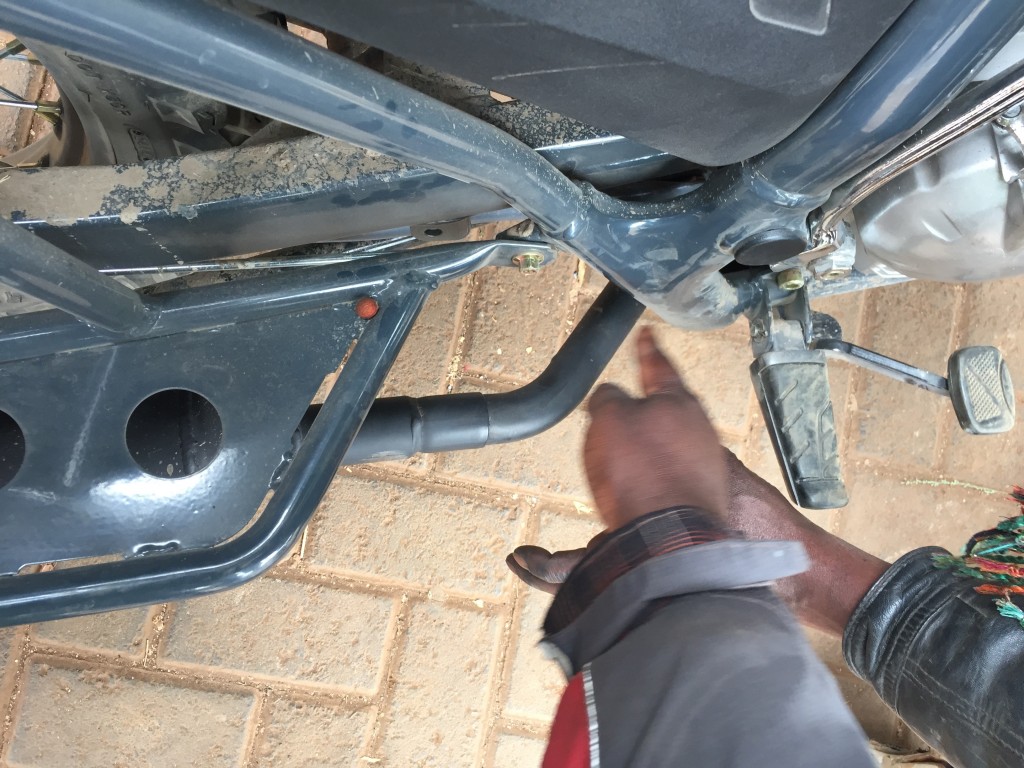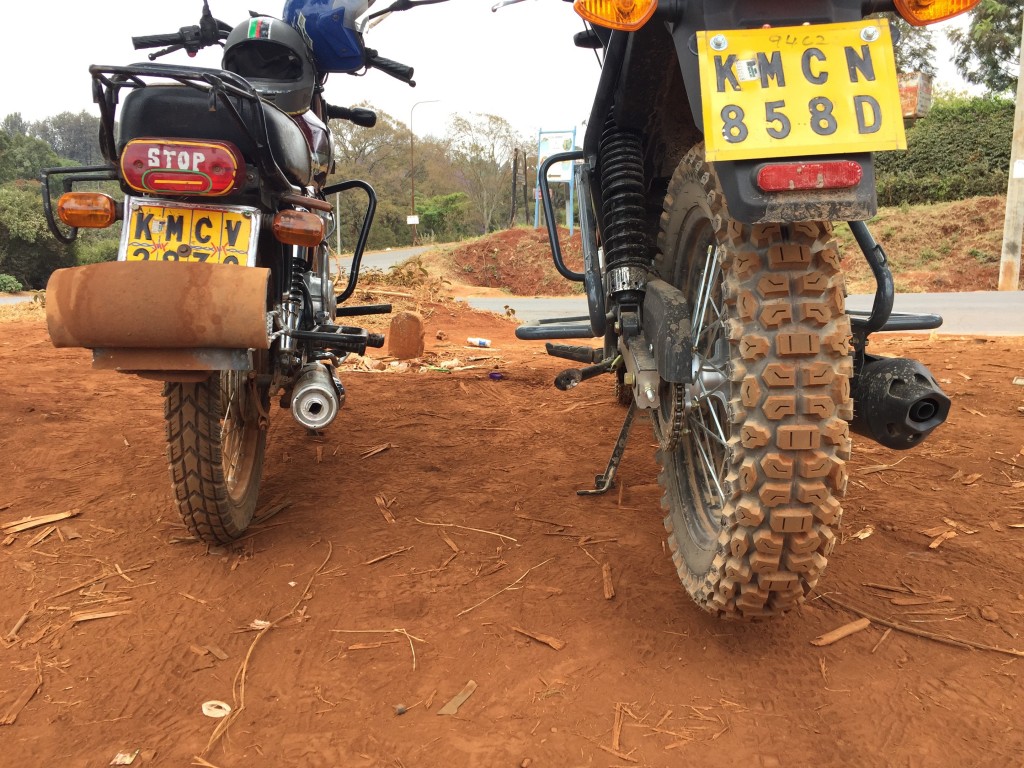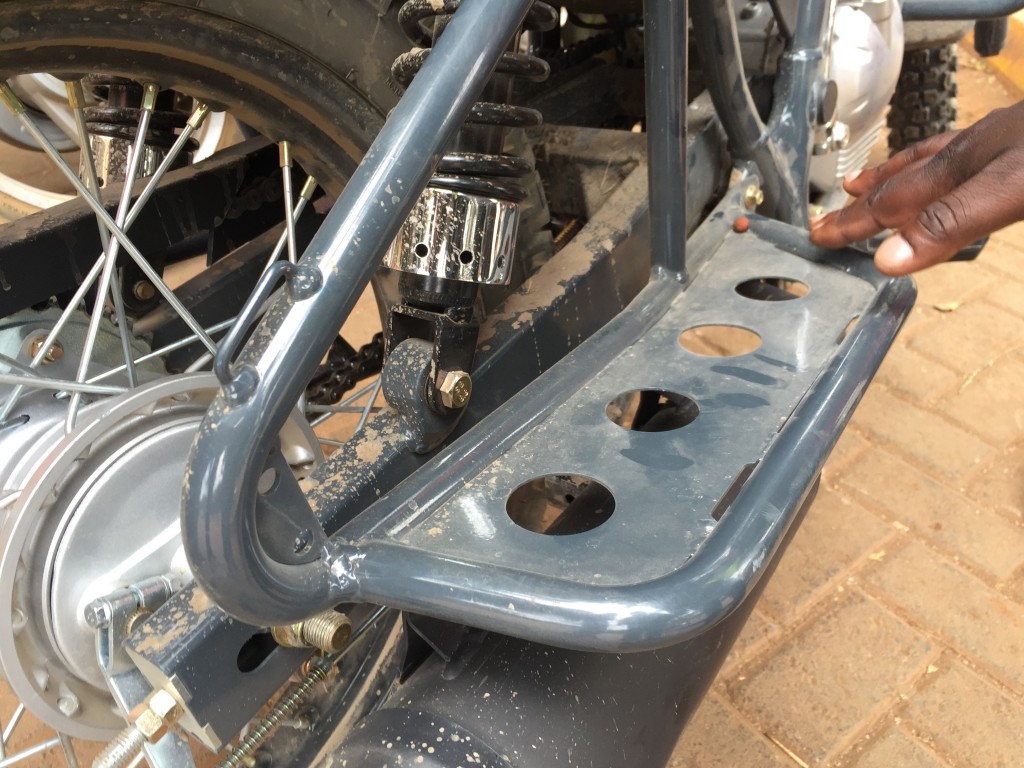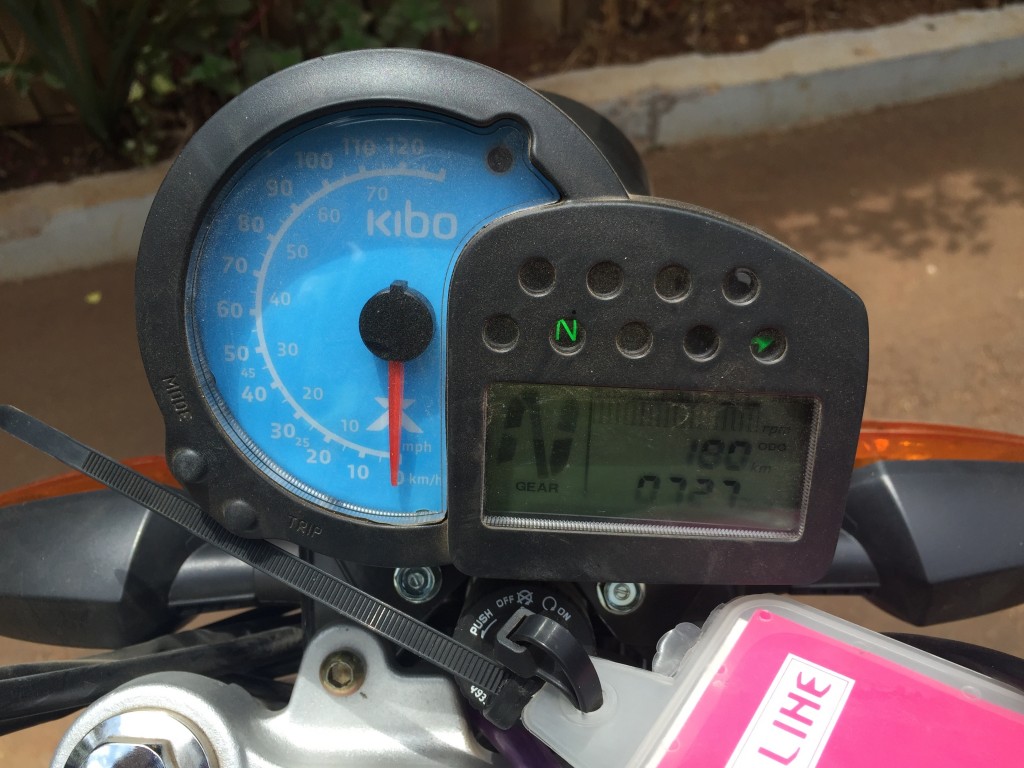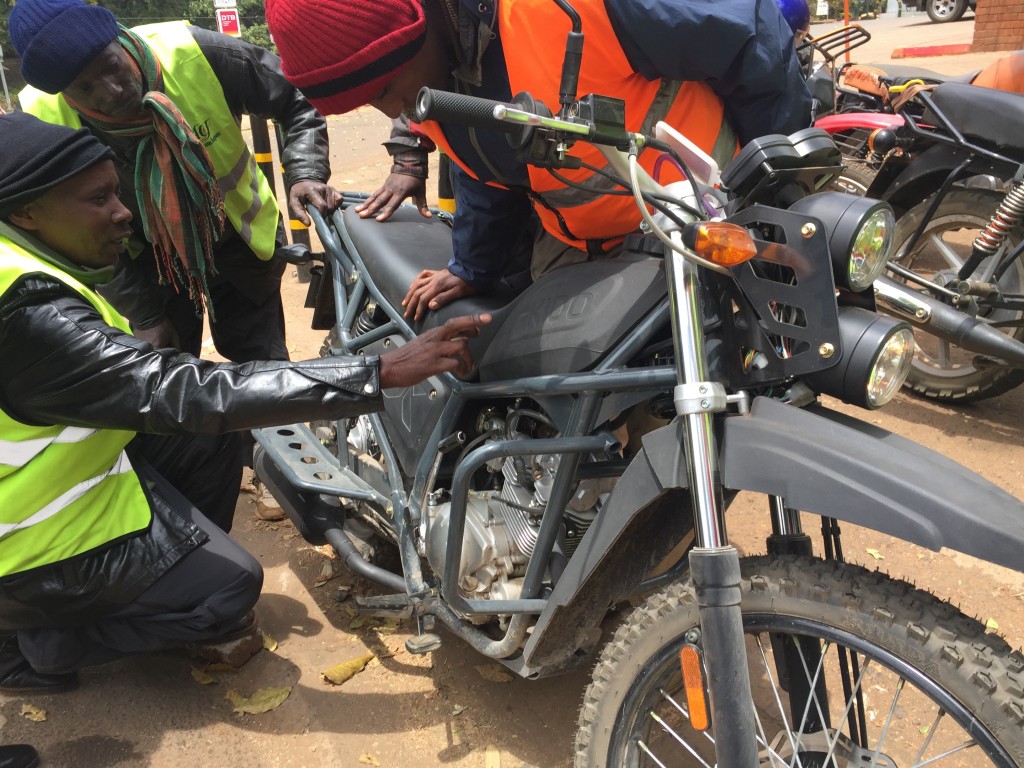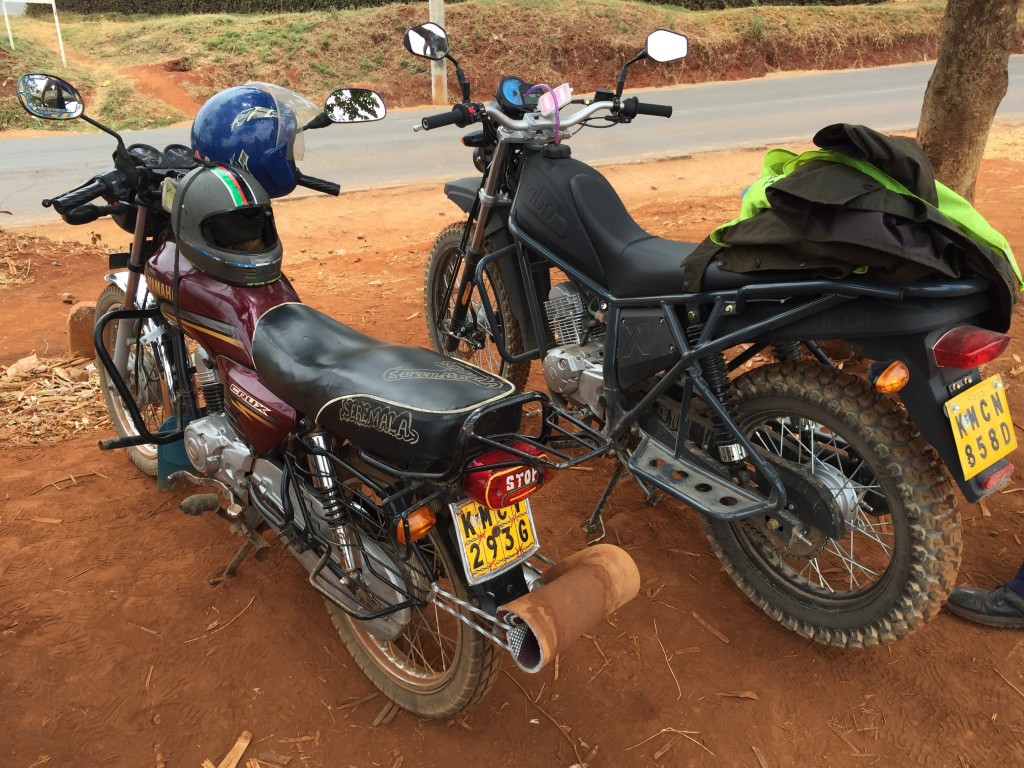 Final Thoughts
Overall I like the Kibo K150, enough that BRCK will purchase one to see if we can use it for delivery into some hard-to-reach schools for our Kio Kit. I'd like to see it geared for a bit more power (though again, it might have been the test unit I had was geared for city).
The price seems to be an issue. Individual motorcycle riders will have a hard time affording it, so as far as I can tell it will largely be purchased by companies. I like that Kibo is bundling the rider training, insurance and maintenance with the price.