Mobile phone manufacturers, operators and of course Google started a big push on Android into Africa this year. Samsung, HTC and Huawei are moving Android phones into the market. Some operators are seeing the signals and starting to subsidize Android handsets to get them to a price point that is palatable by a larger number of buyers. Google continues to push for local content, works with developers, does g-[country] events and puts on contests.
While the primary phones in Africa are still feature phones, Android has made a beachhead on the continent and will continue to roll forward. I believe we'll look back at the landing of the IDEOS phone earlier this year in Kenya as an inflection point, where in 2 years we'll define the times up until then as, "before Android".
Developers as Leading Indicators
I see what the local programmers working on as a leading indicator of what everyone else will be using in the next 2-3 years. In the iHub, on the mobile side, we see a lot of programmers excited about, and working on, Android apps. It's a balance between that and the SMS/USSD core infrastructure apps that Kenya is well known for.
Today, at the g-Kenya event, Google announced the three winners of their Android Developer Challenge for Sub-Saharan Africa. Each of the winners will receive $25,000.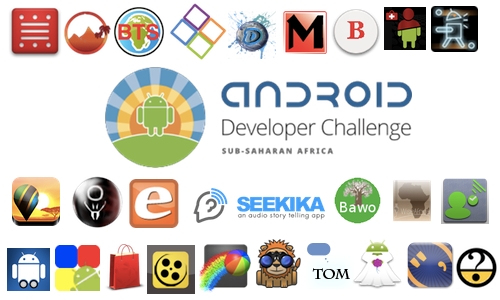 There were 29 finalists came from the following 10 countries, which is a pretty decent spread. However, you can tell from the number of apps in each country where the real powerhouses are.
7 South Africa
6 Kenya
5 Nigeria
3 Ghana
2 Uganda
2 Malawi
1 Senegal
1 Togo
1 Tanzania
1 Republic of Guinea
The one pain point that developers have right now is that they feel pressure to support multiple operating systems. This is Primarily between Android and Symbian if the app is focused on Africa, if the app is global, then add in iOS and possibly Windows and Blackberry.
It will be interesting to see what happens with feature rich HTML5 and how it plays out into the mobile space. At this point, either we'll see a lot of mobile web apps (working across PCs and all phones with real browsers) or we'll see a lot of apps. Even if we do see the client-side Android apps, I'm guessing they'll be more thin-clients than anything else. Only time will tell though.
The Future of Consumer Mobiles in Africa
The years ahead are hard to predict. However, in Africa I think we'll see an increase in Android handsets and mobile web usage, and a continued decrease in the cost of low-end smartphones and data connectivity.
If I'm an operator, I see the writing on the wall in regards to SMS and USSD apps, and I'm trying to move my user base to data. This means more subsidized phones, and attractive data packages that are wide-spread across my region. I'm making deals with content providers and offering zero-rated (or reverse-billing) packages on data to large content houses in order to increase usage.
If I'm a manufacturer, I'm providing an array of Android handsets that allow my aspirational users to move up from a feature phone to a (we hope soon) $50 Android, then up to a tablet eventually. I'm doing whatever it takes to decrease costs on the low-end to get mindshare. If I don't do Android (Nokia, RIM) then I'm doubling down on the mobile web and pushing for better browsers on my phones.
If I'm Google, I keep having dev events and competitions, but I also push for better localized payment options for developers in Africa. On top of that, I'm looking for an operator billing link for consumers with attractive percentages for app publishers, that way I attract them and everyone makes more money.
Of course, there's more, but that's where I'd start.