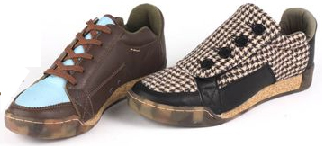 Just when you think you've seen everything someone comes up with a great way to reuse old and used clothing, blankets, parachutes, jackets, towels, scrap leather, buttons…. you get my point… to make shoes.
I'm sitting here comparing my two backgrounds. My American/Western culture side of me says that this is a creative way to recycle used goods. My African side tells me that anyone willing to pay over $100 for a gimmick shoe is crazy! Can you imagine someone trying to sell these at the Kawangware market in Nairobi?
Anyway, Worn Again is a good marketing mini-site and viral campaign for Anti-Apathy, and will probably raise some money for them at the same time.