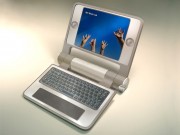 MIT has been working on a $100 computer project for their One laptop per child movement. The program has backing by the likes of AMD, Google, Motorola and Samsung and will be rolled out in Brazil, China, Egypt, Thailand, and South Africa.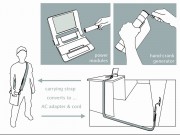 The Linux OS based laptop is built of weatherproof rubber and includes a manual crank to recharge the battery if there is not power source available. The power cord and AC adaptor convert into a carrying/shoulder strap (we'll see if that works!).
Overall, I really love this idea and believe it can make a significant change, in Africa in particular. There are a few obstacles in the road to connectivity utopia though, one would be the fact that it is the government of these countries that do the purchasing – always a problem in corrupt places. Also, $100 seems inexpensive to those of us in the US and Europe, however that is a very sizeable portion of the average Kenyan's budget.
Connectivity to the web is another issue – and is where this project can really provide it's worth in the long-run. It might be possible to find some inexpensive way to get online, maybe that's why Google is backing it. With the new GoogleNet, they might be able to provide free Wi-Fi or WiMax hotspots.