[warning: rant ahead]
I usually like to use my drives to and from work as a time to think and problem-solve things. Today however, I listened in on a talk radio station which had a guy named Mike Gallagher talking. Little did I know that he would get me all riled up over police and their use of tazers. I don't listen to Mike that often, so for all I know he could be a great opinion commentator on many issues – just not this one.
Mike was attempting to defend the use of tazers by police, his argument being that getting tazed was a whole helluvalot better than being shot. Agreed. After this, he made the classic logical argument mistake, which is that if you claim one thing is right then all forms and manners of it's use are also right. That's where he lost me.
Watch the following video: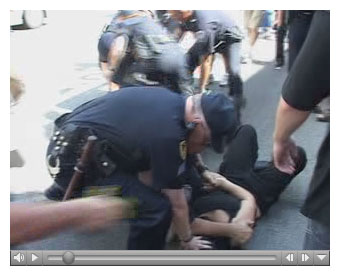 The image, and video clearly show the woman was being uncooperative, yet the police clearly had the situation in control before the tazer was used. Mike Gallagher would argue that if you are ever in this situation you should just be glad they didn't shoot you instead. What kind of idiocy is that? Seriously, think!
I could care less what the protesters are there for. This article isn't about that, it's about the use of force in equal measure to what is needed. Is someone jacked up on crack waving a samurai sword around the middle of the street, I can understand shooting them. If a big burly man is being belligerent with the police, I can understand tazing him. If a woman is already being held down by 2 police, I think tazing is excessive (the term "overkill" comes to mind).
Someone called in saying just that, that it was probably a little more than the situation warranted. Mike replied, "What do you expect the police to do?" I wish I had been on the line… Try this on for size, how about the police do whatever the hell they did for the last 200 years before they had tazers!? It's not like this is the "old" way of doing things. I don't remember policemen having issues with 68 year-old grandmothers that they couldn't handle without brutal force in the "old days".
Can we just have a little common sense?
[end rant]