David Seruyange has put together a great little tool for coming up with passwords, called Hobbitwerk:::pwd. If you are constantly in need of a new password and hate trying to come up with something new each time, this tool is for you.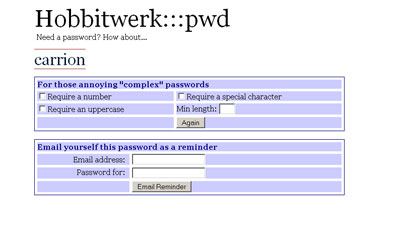 What I like about Hobbitwerk:::pwd is that David allows you to pick some general rules, like if it needs to have a number and how many characters it should be. If you don't like the password, just hit the "Again" button. Best of all, you can have it emailed to you.
Very simple. Very functional. Useful.