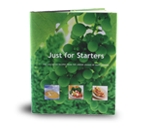 I wrote about Blurb a little while back. It's a new service that allows you to print a real book out of your blog. You can also print other items besides your blog, they suggest: Baby Book, Dog book, Cat book, Cookbook, Photo book, Poetry book, or your Portfolio.
My guess is that most people will use it to print photo books, blogs and possibly baby books. Just guessing though. Either way, I've been following Blurb for a little while and think it's a great step forward for independant writers, photographers and artists.
Another neat feature is the Blurb Bookstore, where you can choose to publish your book, automatically increasing the exposure to whatever it is that you created.
There is another alternative as well, you might want to take a look at Picaboo who also does photo books.
Note: What they don't tell you is that you still need an eye for design in order to make them look good. Sure, you can create an awesome cookbook, but don't expect the cover to look as good as the one above unless you know what you're doing (or have a friend who does).
4 Bloggers who I think should consider creating a blog book:
Know a blog or blogger that you think should print their blog? List them in the comments section below.