Here's an interesting one that I found under the heading, "Goodbye Global Digital Divide?" in the eMarketer Daily. I quote:
When it came to Internet connectivity the world used to be clearly separated into the "haves" and the "have-nots," but, according to a new study, that may no longer be the case.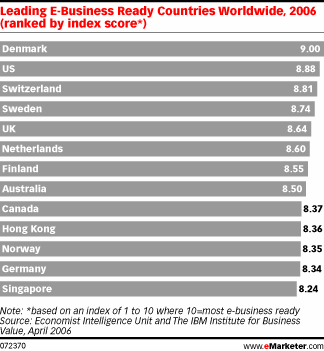 I guess Singapore and Germany are developing nations, because we can clearly see how they have closed the gap to be on par with other leading tech countries. < / end sarcasm>
Can they be serious, or are they just that ignorant? I don't see a single developing country on this list. What doesthis chart/study have to do with the digital divide at all when comparing those countries?