AfroM referenced an article in Wired Magazine's May issue titled The Cost of Staying Connected. I've had that magazine sitting on my desk for a week, but haven't had the time to crack it open. Interested in what I might find, I opened it up to this graphic. Basically, it covers the average cost of getting connected to the internet at cafes in a random selection of countries worldwide.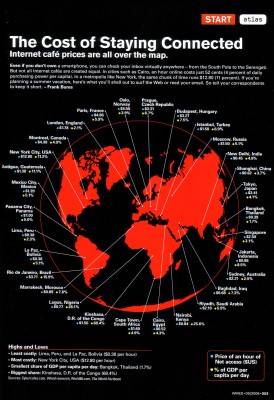 Click image for a larger version
What I find the most interesting is that they split up the price per hour and the percentage of GDP per capita per day. In other words, it might be more expensive to get online in New York, New York ($12.80/hr), but it took a higher percentage of the average persons wages in D.R. of the Congo (68.4%).
Thanks for the heads-up AfroM!