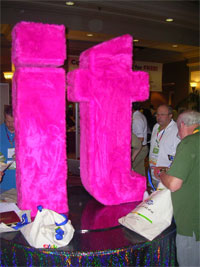 After my first day at eBay Live 2006, and especially after going to the keynote presentation by Meg Whitman, I finally realize why eBay works. It works because it's authentic and transparent. The community that has been built up around eBay, which most of us don't see because we're not "powersellers", is astounding. They truly drink the eBay Koolaid.
Since both parties truly believe, both eBay and the selling community, it works. Through making some mistakes by not listening to their community, eBay has learned that the sellers have valuable input that keeps them on track strategically. Now they listen. eBay Live is one of the places where they get that invaluable feedback, but also on their message boards, forums, and phone calls.
I guess that's what makes all great web companies in the end. They don't have customers, and they have more than just a "community", they have zealots. Zealots are those that love the brand/product/service more than a regular fan. They are invested in it. They want to see the product get better, and the developers work to meet the needs of that group. A truly symbiotic relationship.
How do you build that though? Where does that come from?
I believe it comes from being transparent and authentic. People believe you and want to work with you because you're real.
BONUS: So how big is eBay? See the video I took of Meg Whitman at the Keynote talking about "eBay Nation"