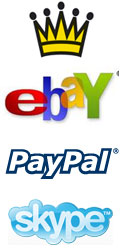 After getting back from the 16,000 strong eBay Live conference last week, I was asked by a number of people about statistics. I posted about eBay Nation (see video) – that there are 200 million users which if it were a country would be the 5th largest in the world. Here are some more interesting stats from Jim Courtney at Skype Journal about eBay, Skype and PayPal:
PayPal services 105 million accounts in 50 countries; PayPal provides the payment mechanism for 67% of eBay transactions. (PayPal has more accounts that Amex and Discover combined.)
Skype, in Q1 of 2006, provided infrastructure for 6.9 billion minutes of long distance calling; representing 7% of all long distance call minutes worldwide.
eBay: last year sold a "Gross Merchandise Value" of $44B, representing 14% of all ecommerce on the Net.
eBay is a phenomenon that isn't going to stop anytime soon. I read a great transcript of a Meg Whitman talking to the Financial Times where she states:
We have the number one ecommerce for franchise, the number one online payment standard, and the number one voice communications player in the world. I think we have three of the best brands on the Net. Maybe three of the top five brands on the Net are eBay brands.
They're sitting in a very powerful position for future growth. Sure, it won't be all in the auction world, but they're branching out and will continue to grow at a steady rate.