Nike has a pretty good viral marketing program going on right now called The Longest Chain. It's part of the Joga Bonita soccer social network program that I wrote about a while back.
People from around the world can upload their video files on the Nike website and have it spliced into the video that's already been created from the other 105 people (from 26 different countries) who have submitted their videos. It's actually pretty fun to watch, the total time sits at 9 minutes of video at this point.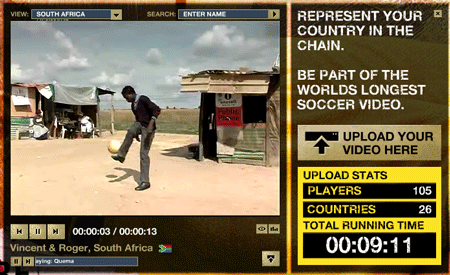 We need more African representation though, South Africa is really the only one with anything up there. I would think that at least other big name Football countries would have a showing, like Nigeria, Egypt or Côte d'Ivoire.