Wow, I never thought I'd see the day that this happened. All of my friends from places like Juba Model School, or even those who lived in Juba, Sudan over the years should get a kick out of this. The Juba Post is an online newspaper for that particular region of Southern Sudan.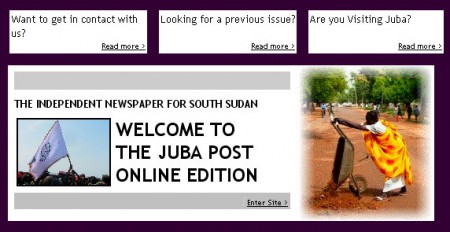 Looking in their archives, it appears that it actually first came out in June – and I'm just now hearing about it. Obviously, an online edition is only really useful for those who have computers, so it's not for the average Sudanese. However, it does a good job of speaking There is also a "Juba Accomodation Guide", in case you choose to visit.
All-in-all, I'm very impressed. This took some initiative, and I'm excited to see that there is some success coming out of that war torn region.