The last two weeks have been a hotbed of flamewars and accusations across the blogosphere over race and gender issues. As a rule, I generally distance myself from these topics. This time however, I think I have something to add to the discussion. (please excuse the abnormal length)
It started off with the MMK declaring the Digital Indaba on Blogging taking place in South Africa as a potential play by whites trying to take hold of the upper ground in African blogosphere. The week prior, Chippla had posted thoughts on whether White Africans are actually Africans. On top of all that, the African Womens Blog had some interesting articles on racism, a particularly good one was the one talking about how as whites we don't even realize we are privelaged. So, this whole debate was brewing and coming to a head.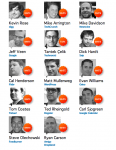 Today, Seruyange referred me to Dare Obasanjo's blog post on white males being overly prominent in most technology conferences. Funny enough, the one everyone is pointing to is the one I was at last week, "The Future of Web Apps" (speaker list image attached).
I'm trying to step outside of the normal racial issues we deal with, and just talk about technology and conferences here. In particular, I'll boil it down to the type of conference that I am used to attending.
It's about Ideas and Networking
Conferences are designed for two purposes: Ideas and Networking.
A good conference will have a speaker list of people with good ideas and thoughts, and they are generally good at actually presenting as well. Technology ideas are agnostic. For example, a good product or even a theory, on social bookmarking does not care whether you're black or a female.
Networking is the other component that I look for in a good conference. I want to meet and share ideas with others. This is where the demographic makeup does have an effect. If those we actually get into conversations with are all spouting the same stuff from the same perspective, we miss out on a lot.
In Summary
Ideas are agnostic, they don't care about your skin color. Networking, however is not, but you don't do yourself any favors by NOT going to a conference because you don't think you'll be well represented in the types of speakers.
Those putting together conferences could easily have more women and non-whites as speakers – I love Dare's examples of who to switch out by the way. Does it matter who the speakers are though? I don't think so. I think it matters who you actually meet and talk to.
MMK has a point that those who are chosen to speak at the conference tend to be seen as the "experts" and can gain a certain amount of influence. However, I absolutely hate any talk of quotas for conferences. Let's not make this an issue where we are all dancing around the "politically correct" issue. So, is there a balance issue that needs to be addressed by organizers? Maybe.
Final Thoughts and a Challenge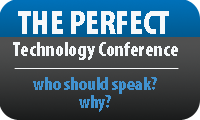 I think the more important issue is not the speakers at these conferences, it's the general groupthink that you get out of Silicon Valley and the Western-centric tech community. Dare decided not to attend any more conferences because:
I realized I was seeing the same faces and hearing the same things over and over again. More importantly, I noticed that the demographics of the speaker lists for these conferences don't match the software industry as a whole let alone the users who we are supposed to be building the software for.
Let's be proactive and think about what would the makeup would be of the perfect web technology conference. If you could put together the speakers, ones that would entice attendees, have cutting-edge ideas and be great speakers, who would you choose? Why? If you think about the ideas and projects that they're working on first, without looking at color, would you still have an overly generous sampling of white males?