I'm a Toyota guy. When we first moved to Southern Sudan back in the 70's, we had an old Toyota short-wheelbase FJ 40. It was the toughest car in the world – managing to cart our family around the African bush or out on hunting trips – and is probably still beating around in Africa somewhere.
I could argue all day about the relative pros and cons of a Toyota Landcruiser versus a Land Rover, but we'll save that for another day. 🙂
Recently, I came across Toyota's NEW FJ Cruiser in a store parking lot. I couldn't really tell what it was at first, but it looked interesting, so I went and checked it out. Obviously, it is appears to be much more of a "street" car than the old FJs. Upon further research though, it looks to be a capable off-road vehicle.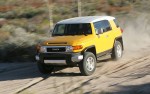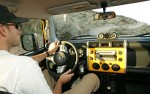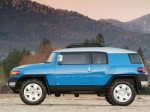 The pricing starts at $21,700. You can get it in 4WD, or 2WD, and you have the option of getting it as a stick shift or automatic. Personally, if I were to get one, I'd have to go with a stick 4WD.
Overall, I really like the new vehicle, especially for here in the US. I'd like to see how it survives on real African roads though – Toyota has a great reputation for building solid vehicles that last a long time. I would hope that this new FJ does as well.
Take a look at the video and a review of the vehicle on this site.
Here's a link to some nice large wallpaper sized images of the FJ Cruiser.