I'm really excited about this. Neville has put together a widget for Muti that allows anyone the ability to put the "hot" news on Muti into their sidebar.
Widget code (copy and paste into your sidebar):
<script src="http://muti.co.za/widget"></script>
Here's what it should look like (and you can see it live on my sidebar):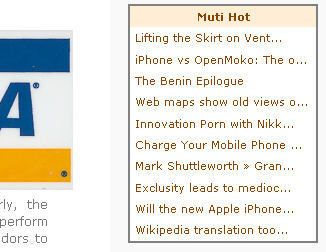 With the continued growth of Muti, you'll find the most up to date news on Africa. Granted, this news is funneled primarily through the African blogosphere, but many non-bloggers have started using Muti to post important African news. Click here for more Muti Tools.