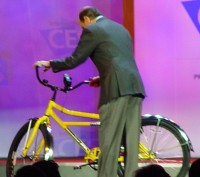 Say you ride a bicycle to work everyday, well now you can charge your mobile phone's battery at the same time. This is the concept that Motorola embraced to come up with their new bicycle system. Engadget is reporting that they are originally designed with the Chinese market in mind, but in further reading you can see that they are thinking of all emerging markets, including Africa.
"For people living in emerging markets, energy is a scarcity," Motorola chief executive Ed Zander said Monday at the Consumer Electronics Show. "In Southeast Asia, rural China and Latin America, we can actually put this in, hook it up and charge this device while we are riding a bike."
It's kind of strange to see Motorola behind this, but it does make sense. I'm interested in hearing what others have to say about this within the African blogosphere. I'd also like to know more about costs.