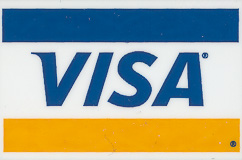 Visa announced a new mobile payment system at the Consumer Electronics Show this week in Las Vegas. (more news)
Unlike a credit card, the system would eventually enable users to make mobile payments without any physical interaction with the vendor. Similarly, the system will let people make payments remotely, perform direct person-to-person exchanges and enable vendors to offer digital coupons on cellphones.
If you've read any of my past thoughts on the mobile phone being underutalized as a platform for commerce transactions. So, this development is very exciting. It will be extremely successful if they have the same international coverage with this system as they do with their normal Visa card.
I'd like to know a little bit more about it, since there are a couple of things that I think are left out at this stage. For instance, will I ever be able to inject the system with cash, or is it all credit based? Will application and enrollment in the stystem be available to people in developing countries? What are the rates going to look like?