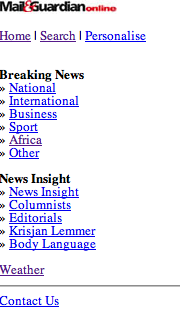 Last week South Africa's Mail & Guardian newspaper went mobile (actually, they had a closed subscription-based service prior, but this is open to everyone). You can find the mobile version at http://wap.mg.co.za. What was particularly interesting about this was how simple of an interface they came up with, which made it possible to develop in a day and test for one week (that's insanely fast by the way!).
I had a chance to catch up with Vincent Maher, their online strategist, to ask a few questions. I asked what technologies they had used, and why they had decided to go with them. It turns out that they used all open source platforms and that they are very much committed to web standards in implementation. Of all the things that Vincent said, the next quote is the most telling to me:

The project took a day to develop and a week to test and tweak, given its simplicity and there is nothing particularly fancy in the backend. During development we tested on a wide range of phones and sizes and gradually scaled the interface down from something quite rich to what it is now, bare bones. I must say that, from a personal point-of-view, I found it quite frustrating because of the interface constraints. The way to go, if you want a really great interface, is to build a Java application, but we didn't want the administrative and support hassles that would come with.
I think it's the simplicity of an HTML format that wins in this case. Yes, you can have a much more robust interface when you build a Java based application, but what you give up is the ability to change quickly and a number of people won't be as willing to adopt it.
What's Next?
They'll be integrating their "arts" section into the mobile application soon, so if you're in South Africa and want to catch up on when and where the next gigs are in town, your life just got a lot easier.
Comments. I personally think this could be a very big deal. The ability to leave comments on different stories or events could end up being very useful for end users. I'm not clear on implementation, but if the past is any indication, I'm sure it'll be outstanding.