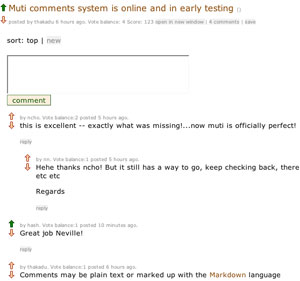 Looks like this is the week of Muti and it's creator Neville. In what I think is a rather big development, because I believe it will grow the number of users considerably, Muti now allows commenting by registered users.
I know Neville was torn on implementation of a comments system on Muti for the past year. This was due primarily because if he allowed comments on Muti, it would likely mean that fewer people would leave comments on people's individual blogs. This is probably true at a macro level, but at a micro level we find that it isn't that significant.
First, the ability to comment on Muti should see it grow and become an even stronger online entity. Secondly, it's okay to start conversations on different platforms. Some might be even more open to commenting on a "neutral" field such as Muti, as opposed to someone's personal blog.
From what I've seen of this type of thing on Digg and Reddit, I can only think it's a great feature. Go sign up and give it a try. Once again, "kudus" Neville!