Not having the chance to attend this event, I thought it would be beneficial for others who are in the same shoes to see some of what I've been reading about it. Here are some pretty interesting blog articles about the dramatics and ironies around the event:
Kikuyumoja talks about the ironies and has a few good pictures. I found the pricing scheme the most disturbing – maybe it's because of growing up in Kenya that I came to dislike how I was charged extra for my nationality, even as a resident.
And then there is this chart showing the registration fees:
Individual participants Kes Euro USD
Africa 50 5 7
Rest of the South 2.000 20 28
Northern Nationals 7.900 80 110
Mental Acrobatics has been attending the event and has a series of posts, with pictures of the event.
Drama about food #1
Drama about food #2
A couple other blog posts:
Music and Youth
On Youth's Protesting
The official site and the WSF Blog.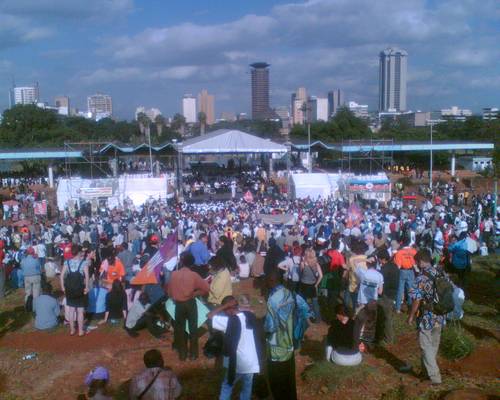 photo courtesy of Kikuyumoja