Last week's interview with the creators of the newest African blog aggregators, "An African Aggregator Roundtable Discussion", has created quite a discussion on the idea of pan-Africanism online. The comment area has been very active with some pertinent questions being asked and a thought line that should be continued. I wanted to highlight that conversation and invite more people to it.
Is it possible for a website (or web application/platform) become relevant to Africans throughout Africa?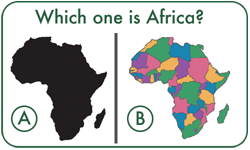 This thought is further stratified when questions of language and intent are brought into the equation, but in short, I think the answer is, "yes". However, a site can not be relevant Africa-wide if the creator does not realize that everyone is "African" and yet no one is "African".
One commenter, Concerned African, writes:
Are these aggregators putting politics (pan africanism) before user experience (which would perhaps favour one language one country/region) and it seems as if these aggregators are trying to "catch all" users within Africa because there is not sufficient internet users on the continent. Is this the case?
Specifically in the West, we like to lump everyone together in this large continent as "African". However, people around Africa see themselves as from a specific country. Just as someone from India doesn't want to be labeled an "Asian", so too do Africans want to be recognized and part of a specific country's community.
So, a platform that serves everyone around Africa is possible, however it needs to have intentional country-specific focus. This could mean that language and local "ownership" are necessary.
Is language too big of a barrier to overcome?
One of the primary thoughts, best articulated by Nino, revolved around the complications that language presents. This resonated particularly loudly with me, since one of his comments linked to 5 other African community websites, of which I had only known 2 of. The fact is, if it's not English, I only hear about it through someone else emailing or commenting about it – that's a problem.
Others countries are french-speaking or arabic-speaking, and the fact that the langage isn't english is a huge barrier. There a many moroccan initiatives, or ivorian, or senegalese, or cameroonian ones and it will be less present in anglophon (or south african) aggregator. You know, only Nigeria and Ghana are anglophon outside southern and eastern africa. all others are quite french-speaking.
Final Thoughts
These are some really interesting thoughts and even more interesting commentary. In the end, we'll be able to see it proved out through the creators of the websites, web communities and platforms.