The One Laptop Per Child (OLPC) initiative has been working for years to bring a $100 laptop to children in 3rd world countries. They have gotten all the way to the mass-prototype phase, meaning they're getting a lot of these computers created and put into the hands of children. In order to get to a full-scale production operation, they need 3 million of them ordered by the governments of these countries.
Enter the bad guy: Intel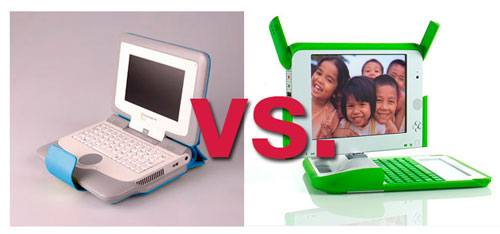 (Image via Wired)
Intel, suddenly seeing the importance of being relevant to this future massive consumer base, has designed their own version of the $100 laptop. Called the "Classmate", Intel's version will have it's chip inside instead as opposed to the OLPC which will have their competitor, AMD's, chip.
The hard part comes when you start thinking about OLPC's goals. If they really do want every child to have their own laptop, doesn't Intel's Classmate boost the chances of that happening, even if it's not the OLPC computer?
I'm all for competition and an open market. However, the problem I have in this instance is the proof that Intel is playing dirty. They are actually going to the same countries that OLPC is going to, trying to take the funding from the OLPC and get it invested in them instead. They're trying to kill the OLPC. (Interestingly enough, the document proof is out of Nigeria)
Aren't there enough poor countries in the world where the children could benefit from these computers? Surely there is enough that OLPC and Intel can both go out and sell their wares without fighting over the same turf. Intel loses this one on poor form and scores a bad karma point.
Make sure you watch the video of this, and read some more to get the whole story.