Ever since I first heard someone mention that mobile phones were "Africa's PC" I was hooked. I still am. My most recent trip to East and Southern Africa has done nothing but confirm my thoughts on the mobile platform as Africa's connectivity device. As much as I love the OLPC, and I know it will have an impact, I can't help but think that it won't reach to the base level of technology needs in Africa.
My simple formula for African technology: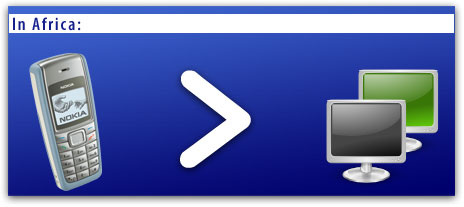 All of the issues that people point to as problems for web connectivity in Africa – be it low bandwith, poverty, the technology learning curve, access to software and hardware – are solved with this one device.
Further thoughts on mobile applications for Africa were spurred on by some meetings with different individuals while in South Africa and Kenya. Angus Robinson, a South African mobile consultant, and I had a good discussion on some of the older hash-based services available through the carriers. Earlier that day I had discussed some services (J2ME) that about 4 million South African youth were using called MXit.
In Kenya I was a part of the Mobile Toolkit Workgroup meetings where the group was trying to come up with a package of educational material, software and services for NGOs. While there I met up with Geoffrey Muthondu, a young man who is working with Nathan Eagle's EPROM project to create a mobile stock trading platform.
I talked late into the night with young techies in Nairobi about how we can change East Africa with the right mobile applications. In Uganda I spoke with the principals of Simba Telcom, MTN and a small web/mobile shop that is trying to revolutionize the way people communicate. The talks with this group left me charged up – these are exciting times to be in the tech space in Africa indeed!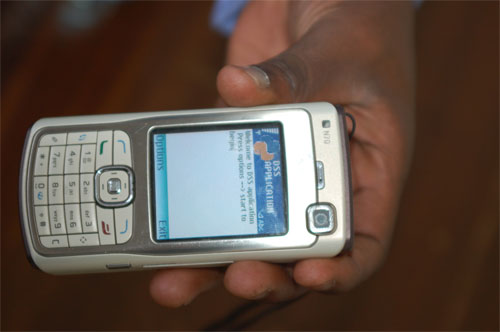 The resounding story is this; Africans, and those creating things in Africa, are doing it with the mobile phone. It's not that they are ignoring the web, it's that they realize first-hand that the mobile phone is the platform of the masses. Any serious penetration of web-like structures, information and connections will have to take place there.
So, what to keep your eyes open for? Look at the following spaces to see who is developing in them:
Mobile payment systems
Social networks
Content platforms
Don't think that these will be just SMS, or just data. The future is a mixture of voice, java apps, SMS and web connectivity. It's where the web and mobile worlds meet. In fact, anyone who is serious about Africa will not just develop for the web, or just for the mobile phone, they have to address both.