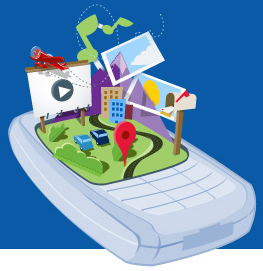 Google has been on a spree this last few weeks. First it was their foray into becoming the hub for social networks through OpenSocial. Today, it's their launch of the Open Handset Alliance and Android.
Android is the first truly open and comprehensive platform for mobile devices. It includes an operating system, user-interface and applications — all of the software to run a mobile phone, but without the proprietary obstacles that have hindered mobile innovation. We have developed Android in cooperation with the Open Handset Alliance, which consists of more than 30 technology and mobile leaders including Motorola, Qualcomm, HTC and T-Mobile. Through deep partnerships with carriers, device manufacturers, developers, and others, we hope to enable an open ecosystem for the mobile world by creating a standard, open mobile software platform.
Basically, their mobile play looks very similar to their social networking play: become the nexus.
As Dean Takahashi mentioned, "Google's approach is to create a "stack," or set of applications that sit on top of each other and work with each other."
This is similar to what I spoke about when in South Africa in May. I used the example of mashing up Mxit and Muti, and spoke about how you create layers of other services that all talk to each other. It's about using open source tools to create your platform, this allows others to build on them easily. Best of all, it makes the end-user experience better.
If you weren't on board before, now you should be. You can build right into the future of mobile. Sure, Android won't be everything, but it's a surefire way to get into the game.