I'm proud to announce a brand new design for AfriGadget!
The old design was rather… old and ugly. I mocked up some ideas, and one of my friends was kind enough to take my amateur work and put a truly professional touch on it. (thanks Jared)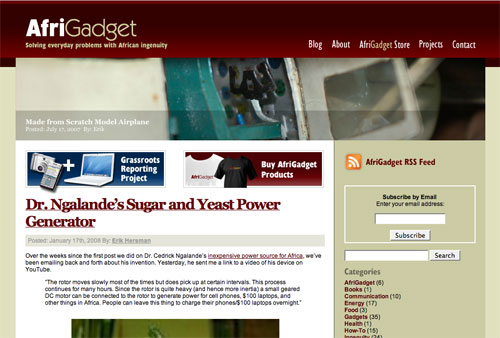 2 New Things:
The AfriGadget Grassroots Reporting Project
We're intent on getting more AfriGadget contributors from all over Africa. Part of that plan is to find potential editors and set them up with a mobile phone with which to take pictures and do interviews. If you know someone that would make a good fit, let me know.
The AfriGadget Store (phase 1)
The first phase of the store is making some AfriGadget gear (t-shirts and mugs) available to everyone (hint: you can customize any design and select any type of shirt/color to put it on). The next step is to create a full-featured store with some of the items that are made by the entrepreneurs shown on AfriGadget. This would include products, as well as plans.


buy unique gifts at Zazzle

If you find any errors, which I'm sure there will be some, please leave a comment or shoot me an email. Thanks!