The mobile applications space is getting more attention each day. Ken Banks has written up a good piece, in which he applies the long-tail theory to mobile applications in areas like Africa.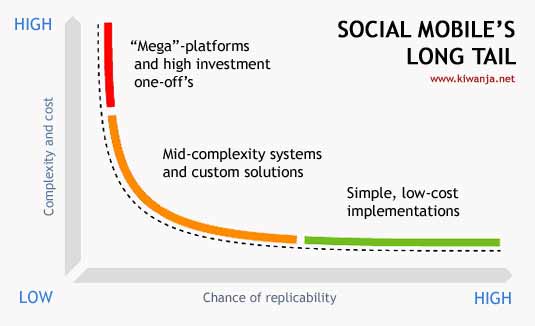 Finally, we're left with the simple, low-tech, appropriate technology solutions with great opportunities for rapid, hassle-free replicability among grassroots NGOs, represented in green. These projects generally get the lowest level of publicity, if any, since few have an international profile of any kind. Notoriously hard to communicate with, and with little or no money, it's perhaps no surprise that most of the attention on the long tail is elsewhere.
What Ken is getting at is an important concept, one that too many of us forget as we generally have access to the more powerful phones. Whether it's dealing with NGO-related initiatives, or traditional business projects, we need to be reminded that creating platforms for the lowest common denominator will have the greatest impact in the shortest amount of time.
Interestingly enough, we see this with an application that is "big" in the West: Twitter. It's a simple concept based on 140-character SMS messaging and a simple way to share and follow communications by others. Of course, they've added additional web and email functionality to it, but the base concept is so simple it's almost painful.
When we apply these same thoughts to Africa, what do we get? Unfortunately, not that much (yet). The top three that come to mind are Ken Banks with his FrontlineSMS tool for non-profits utilizing basic SMS services, Wizzit a South African mobile banking solution that uses USSD, and Manobi that offers market and trading information for Senegalese farmers.
The good news is that we're only scratching the surface. I hope that more tech savvy developers will create applications that work at the end of the long-tail, there's a lot of people just in Africa waiting for better mobile services.
Further resources: