[I've started, stopped and re-written this post 3 times since January as I've been struggling to come to terms with my thoughts on Ushahidi and what I should be doing. It's long, be forewarned.]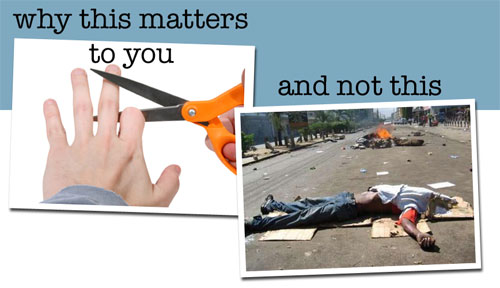 The Kenyan post-election fiasco had a rather jarring effect on me. Why? After all, I grew up in war-torn Southern Sudan, lived through disruptions prior to the Kenyan elections in 1993, and have seen the repercussions of these actions first-hand.
I subscribe to the train of thought that you can't care for everything. There is always a crisis happening in some part of the world, and no one is capable of caring about them all, much less doing something about each of them.
It turns out that I'm not alone.
A couple of years ago I read an article by someone who was discussing some of the points around what Oxford philosopher John Mackie calls self-referential altruism in a collection of his papers titled Persons and Values. The basic idea is that we find it easier to care about those closer to us. Adam Smith talked about it in his Theory of Moral Sentiments, on how it would be more troubling for a European to lose his little finger than to hear of the destruction of all of China (full quote here).
Steven Berlin Johnson, co-founder of Outside.In, calls this the "Pothole Paradox" and brings it to life in my digital world-view. He describes it like this:
"Say you've got a particularly nasty pothole on your street that you've been scraping the undercarriage of your car against for a year. When the town or city finally decides to fix the pothole, that event is genuinely news in your world. And it is news that you'll never get from your local paper, or TV affiliate, or radio station…

…News about a pothole repair just five blocks from your street is the least interesting thing you could possibly imagine."
So, What's Important?
What I'm getting at is this: While people are being oppressed, fighting and dying in some foreign country what do you do? What about if it happens in your country? When does it become important enough to use your talents to make a difference?
Typically, it takes an event that directly affects you to make you go beyond thinking and to act. That's why things that are happening in places like Sudan and Zimbabwe are on people's radar, but so few are doing anything about it. You can only have so many things on your radar that you actually care about and fewer still that you do something about.
In the case of Kenya, it spurred me on to create Ushahidi, in the hopes that I could do something from my vantage point so far removed from the events taking place. Other Kenyans abroad worked on different, but equally important digital initiatives.
A digital world helps us to do that. Just decades ago those who were not in close enough proximity to an event were unable to do much, if anything about it. Today, we can successfully effect change through digital tools and be thousands of miles away.
That's an encouraging and scary thought. Global tools that have real time read/write access are extremely powerful. Depending on ones motives, your impact can be good or bad. Even if your motives are good, your tool can be used for bad. How's that for a quandry?
What does this all mean?
Quite frankly, I'm not sure yet. That's part of the reason I've delayed posting this article for so long. I thought it would be helpful (to me at least) getting out some of my thoughts and theories on crisis, caring, action and the digital world.
I'd appreciate any thoughts and comments that you have on this too.