[NOTE: This is different than the original time we asked for your help. We found out that was only to give us stars, but that vote doesn't count towards the real ballot. Please go vote again!]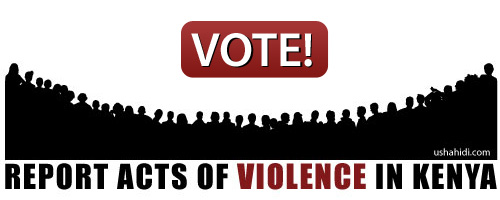 Ushahidi is an African initiated project used in Kenya to map reported incidents of violence during the post-election crisis. Our goal is to increase the scope and capabilities of Ushahidi so that it can be used by others around the globe who find themselves in the similar crisis situations. We need your vote in the NetSquared mashup challenge for a chance at winning some money to use in further development.
How to vote:
1. Create an account (or Login if you already have an account) at NetSquared.org
2. Vote for Ushahidi by clicking here, then click the red "Vote for My Mashup" button.
3. Vote for at least 4 other projects. Here are four that I recommend, but you can choose whichever you like. Just make sure you choose a total of 5 minimum.
4. Click "View/Cast Ballot", or click here: http://www.netsquared.org/projects/vote/ballot. Be sure Ushahidi is listed as one of your chosen projects.
5. Click "Cast Ballot" on your screen. That's it!
Thanks, and we'll keep you updated on the outcome!