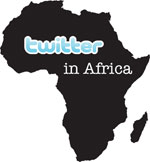 Twitter and Africa
Soyapi writes about the Potential of Twitter in Africa. Followed by a Twitter conversation of SMS and web costs in Malawi by Nchenga.
If you're an African on Twitter, consider following the generic user "AfriTwit" to help us create an index of African Twitter users. Started by JKE of Kikuyumoja, see original post on AfriTwit here.
Mobile News
Ken Banks has informed me that FrontlineSMS has been selected as a finalist in the Stockholm Challenge, along with NMEM who used it to monitor the Nigerian elections. The Awards website should be announcing the finalists sometime soon. In a related story, Ken tells of how the UN is using FrontlineSMS to help with transparency in coffee markets in Africa.
The pan-African Blogosphere
Long-time activist African blogger Sokari of Black Looks has written a piece for the PBS MediaShift blog titled, "How Bloggers Covered Kenya Violence, Deal with Racism, Sexism". It's an interesting read and covers a lot of historical happenings within the pan-African blogosphere over the last couple years.
Finding the next Einstein in Africa
South African Neil Turok's TED Prize wish to put 15 new African Institute of Mathematical Sciences opened around Africa. I'd suggest you watch the video of his talk, it's an inspiring story and one that is happening right now and will soon spread throughout the continent.
Personal Stuff
I'll be traveling to speak at the Global Philanthropy Forum, Web 2.0 Expo and Where 2.0 in the next couple weeks – all in the San Francisco area. If you're there and want to talk African tech stuff, let's get together!
Chris Schultz, a fellow white African, did an impromptu video spot with me a couple weeks ago where I talk about Ushahidi. Interestingly enough, I found out then that Vinny Lingham of Synthasite also used Chris' Flatsourcing company to do some of their development work.