Where 2.0 has started. One series of speakers down, and much more to come. I have the distinct impression that I'm going to have some serious information overload by the end of the day…
I thoroughly enjoyed Adrian Holovaty of EveryBlock's talk. His partner Paul wrote a couple pieces on rolling your own maps recently that I loved. They're breaking down the reliance on the mega mapping API's (Google, Yahoo, MS) as the only way to show your geographic data. Adrian also talked about something that I often think of; using more than just points in showing map data. We need more polygons (ex: heatmaps) and lines.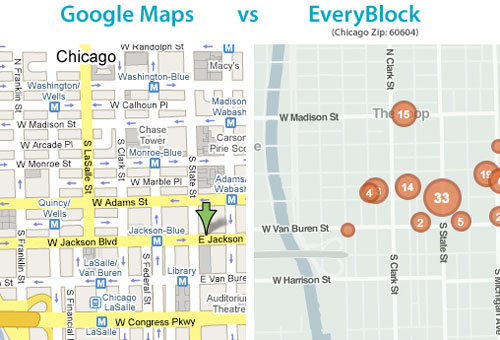 Nokia's Michael Halbherr, head of Location Based Services (LBS) did a short talk on Ovi, their platform for seemless mapping integration between mobiles and the web. He made a point of saying that Nokia is mobile/guidance centric, not web/location centric.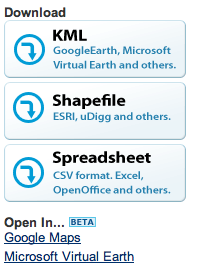 Next up was Sean Gorman, who is doing some really interesting things with his organization(s) FortiusOne and Geocommons. His biggest thoughts/concerns were over dealing with massive data sets and the emerging semantic web. To that end he announced Finder!, which I have to admit seems pretty slick. His demo was showing how you could mashup private data sets (your company's local sales data) with open census data, all available for download as KML, CSV or shape files. It's slick, go sign up for the beta.
Last up was John Hanke of Google Earth, who announced two items:
Google Earth's Geo Search API launching
GIS data relationship with ESRI in ArcGIS 9.3
John mentioned that, "maps help us organize, plan, provide context and decide." I think that's what has made me love maps since I was a kid, and why I'm so interested in the ability to do dynamic and real-time mapping.
For thoughts and analysis on what is happening here at Where 2.0, I'll pass you off to some mapping gurus:
Off the Map
All Points Blog
Mapufacture Blog
Google Earth Blog
The AnyGeo Blog
High Earth Orbit
Very Spatial