I was quite excited at the opportunity, provided by Al Kags of Kenya's ICT Board, to be a part of their meeting on eCommerce. This has always been a hot topic for me, as I strongly believe that the ability to transact business (through web or mobile) is one of the "killer apps" for Africa.
My take is that Africa needs a mobile payment system, akin to PayPal, that is both carrier and bank agnostic.
We'll see if my definition of what it takes for eCommerce to work is the same as theirs.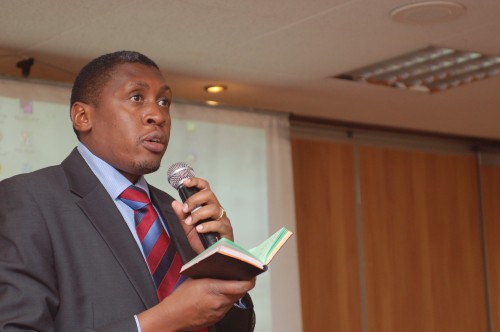 NOTES from the meeting after the jump (long)
The private sector
Kevit Desai, Director of the Kenya Private Sector Alliance and the Kenya ICT Federation, starts off by reminding us that eCommerce effects all industries in Kenya, from health care to agriculture.
Marcel Werner, Chairman of KIF, steps up to state that eCommere will add 1% to Kenya's GDP. Kenya is a champion in many areas, but not in eCommerce. There aren't a lot of nations in Africa working in this area, except Rwanda, and he believes that Kenya should win that race. He states that eCommerce spurs entrepreneurship and innovation.
One of the great opportunities is in tourism, one of Kenya's staples. However, eCommerce isn't only for external forces and the export market, but also for domestic trade. Listing; rural B2C, B2B and G2C, also agricultural trade, healthcare, domestic trade, utilities, etc…
Gaps in the current legislation include the bills being light on fraud, the fact that liability ISPs aren't defined and express support for eGovernment transactions. Beyond legislation though, which international affiliations should Kenya have? How does Kenya organize for arbitration?
Marcel talks a little about "transport", as it relates to order fulfillment. It's easy to sell things online, it's hard to fulfill and deliver those orders. (I agree, fulfillment is a big deal. However, I also think that the private sector tends to figure this out pretty well, no matter the environment. Now, I don't agree that it's particularly easy to buy things online in Kenya right now though – not for the average person anyway.)
Kenya Law as it applies to eCommerce
Michael Murungi, Advocate Asst Editor of Kenya Law Reports. Defining eCommerce: Any form of business transaction in which the parties interact electronically rather than by physical exchanges or direct physical contact.
Why legislate? To legalize, facilitate or control/regulate eCommerce? Michael states that the primary reason for legislation is to facilitate better eCommerce and to protect parties doing transactions. Examples are the need for laws that help with personal privacy. Believes that we don't need multiple regulators for this industry either, but just a single one for efficiency. However, that governing body needs to be split up between administrative and regulatory areas.
He wonders if the provisions that Kenya is thinking of putting into place don't foreclose on future developments in e-cash. Examples include Chipknip in the Netherlands and the Octopus card in Hong Kong.
Michael talks about the need for ISP immunity – as it's crucial to the ICT industry. ISPs should have no general obligation to monitor data traffic, unless the ISP becomes aware of illegal activity. Limitation of liability for transmitting, cacheing, hosting and third-party linking.
Finally, there is a need for prosecution for electronic crime and security.
Paul Kukubo, CEO of the Kenya ICT Board, has come up to talk about both the ICT Board's mandate and how eCommerce applies to it. Four long term goals:
Establish and market Kenya as a leading ICT country in Africa
Promote ICT industries in Kenya
Promote ICT institutions (ex: ICT Board, KIF, etc.)
Widen the services of ICTs for all Kenyans
The web plays a very large part in ICT in this space. Paul has had a great deal of experience implementing eCommerce in the private sector (previously at 3Mice). eCommerce legislation is important in order to increase the amount of transactions that could be taking place in Kenya. We don't see enough eCommerce activity in Kenya… yet. Part of the ICT Boards responsibility is to raise awareness of eCommerce in the country.
A lot of the eCommerce activities will take place over the mobile phone. We must recognize that as the medium for the future for Kenya. I wouldn't be surprised if MPesa does more transactions than some small banks. We must be aware of how our population is accessing goods and services through technologies.
Paul breaks into some thoughts on digitizing of forms and documents. Right now there is a propensity to store these documents in hard copy, and not digitally. Paul believes that they might be more secure saved digitally rather than in paper. Example given of a land deed contrasted to a banking/sale transaction for that property.
People are looking for goods and services that simplify their lives. So, what should the exclusions be in the laws? What are the principals behind them, rather than just the exclusions themselves? We see a world in which every record will be a digital record – in 10 years. So these are serious questions.
For international business, it's incredibly important that we have legislation for data protection and privacy. If business process outsourcing (BPO) is one of the larger initiatives that we're looking to do, then we must understand that the right legislation to attract international business is critical.
Dr. Juma Oketch, head of the e-government secretariat in the Office of the President – directly connected to the Ministry of information through the Kenya ICT Board.