One of the products of Seacom's undersea cable reaching East Africa is that we're now getting faster internet, and more of it, in Nairobi (note, I didn't say cheaper). For many, it means coming up with a plan for backup internet is plausible and it's actually quite easy. Though more expensive than an ethernet connection, the mobile carrier's with 3G internet access work well for this. Plus, they have the added advantage that you can take the modem with you and have mobile connectivity anywhere.
This time, I wanted to get a router that I could connect my Safaricom (or other) 3G dongle into and provide internet for more than one device and backup for my other "main" connection. With this thought in mind, a couple weeks ago I picked up a Cradlepoint MBR1000 router due to it's ability to accept 3G modems, whether USB, ExpressCard or phone.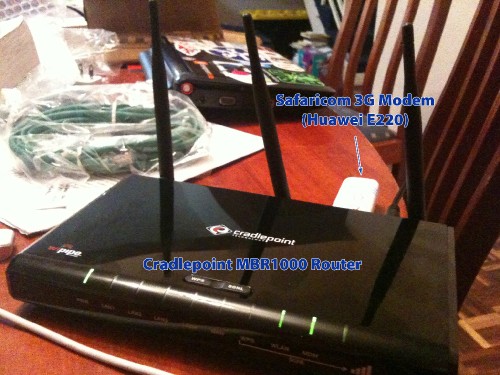 It's interesting to note that Cradlepoint also have a battery operated version for those really on the go, making it a completely wireless hotspot in your pocket. You can read more about this in a case study [PDF} where some university students from Canada used this in conjunction with Safaricom 3G modems and the OLPC while upcountry.
The only tricky part is knowing what settings to put into the router's setup area in order to activate the modem. Below is all you need to know to make a Cradlepoint MBR1000 work in Kenya with Safaricom: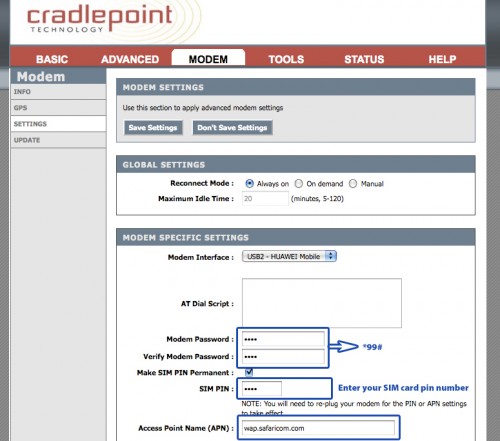 Will this work with Zain and Orange? I'm not sure yet, but I'd tend to think that it should. I'm using the Huawei e160 modem for Safaricom, and Zain uses the Huawei e220, which is also listed under Cradlepoint's generic UMTS/GSM devices.