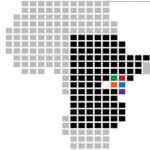 In the Summer of 2009 I was approached by Wilfred Mworia, a talented programmer in Nairobi. Wilfred's big idea was to open up a small company where his main goal was to create mobile phone applications for platforms like the iPhone and Android operating systems. This company is called African Pixel, and Wilfred is well on his way to becoming a mobile app developer of some note, regardless of the fact that he lives in Kenya.
His first application is iScribe (iTunes link), a simple tool for writing a journal on your phone. It's the tool I'm using to write this post as it pushes to WordPress.
Scribe
iScribe was built to be simple. A way for you to write a journal entry quickly, and then add images, video or audio if you so choose. While I've been actively involved providing feedback to Wilfred on the app, I've had to constantly remind myself not to ask for more features.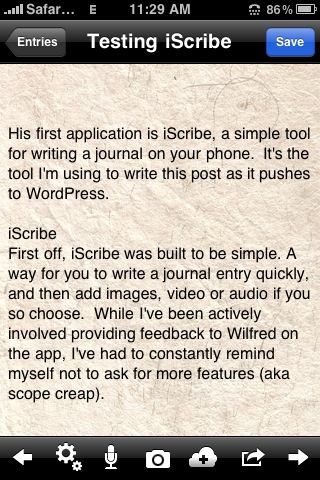 "How does it work? Simply, type text, take photos or videos, press a button to record and play back audio recordings, save your stuff, press another button to share online or by email and voila!"
Besides the simple journaling and multimedia capabilities iScribe entries can be emailed or pushed to a blog. This is especially useful as few people write solely for themselves.
Here's Wilfred giving a walk through of the application:
Go ahead and give this first iteration of iScribe a try. Send Wilfred your feedback on how it can be made better or if you find a bug.
My feedback
The pushing to a WordPress blog is where there are a few shortcomings. I did push most of this post from there, but the images didn't work right, nor was I able to add links. There are some user experience items where the user needs feedback on when they pushed a button and if something is happening. These are mostly minor issues though, nothing which makes iScribe unusable.
African Pixel
This is one application, something that should make some residual income for Wilfred. I know he's interested in building more applications that he can sell on the iPhone app store and the Android marketplace. That's the idea anyway, and it's encouraging to see that he's doing it from here, realizing that the web/mobile world means that you can do this anywhere.
Wilfred is currently working on a second application, one that he started in August which has even more potential than iScribe. To keep up to date with Wilfred and African Pixels, follow him on Twitter, African Pixel on Facebook and the blog. Guys like Wilfred need seed capital to get going, to buy the time to create those first apps where they can begin seeing cash flow. If you're interested in that, I know he'd like to talk to you.