I'm at Nokia World this week in London as part of the final judging panel for the $1m Growth Economy Venture Challenge. I've been reading and reviewing dozens of entries from all over the world, and I'm excited to see the finalists in action as they do their presentations tomorrow.

Nokia in Flux
There are a lot of things going on within the world of Nokia right now. The Monday Note has a great overview of the big challenges facing Nokia right now, not least their incoming Canadian CEO, Stephen Elop, and the effect that it is having internally on other high level executives.
A couple months ago I gave a talk on "Innovating Africa"to some of the Nokia executives in Nairobi, they largely dealt with Africa, as well as specific products and operating systems. Most of my suggestions were directly from passionate customers of theirs from all over Africa. The Nokia brand is still very strong in Africa, the game is still on here. However, Nokia needs to be careful that they don't lose this advantage by faster moving, cheap Chinese manufacturers and the better software and UI found on the Android/iPhone smartphones.
Developers, Money and Nokia in Africa
Smartphone growth and marketshare is getting more and more aligned with the types of apps that are available for people to use. If the apps, utilities and games that they want aren't present, then they're more likely to move somewhere else. In Africa, where unlimited, high-speed bandwidth isn't the norm, the mobile web as an option isn't quite reality yet. It's a different paradigm than in the West.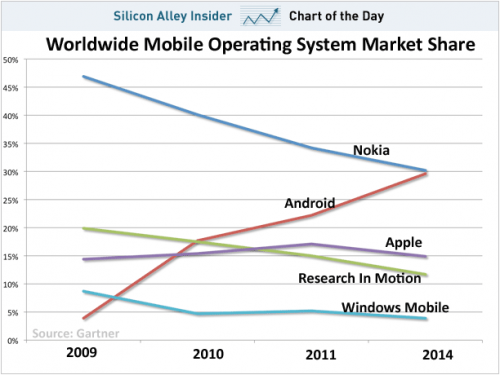 This means that you need third-party developers interested in building apps on your operating system. While almost all operating systems have a store for apps now, including Ovi, iPhone, Android, Bada and others, there is a glaring hole in Africa:
You can't get paid…
So, here's a hint for Nokia, taken from the talk months ago: make it easy for developers to make money, even in Africa. Figure out a way that people get paid and can bill via your server-side offerings like Ovi.
Smartphones
Africans are aspirational; they might not be able to afford the Mercedes Benz, but everyone is working their way towards buying one. The same holds true for smartphones, though the vast majority cannot afford a high-powered iPhone, the latest $600 Android phone or the Nokia N8, they look to who the leader is in the space. He who controls the mindshare of the smartphone space, holds the mindshare of the mobile brand as a whole.
I'm looking forward to testing out, I'm sure it will have excellent hardware as all Nokia devices tend to be well engineered. However, I've yet to find a Nokia with good software or UI, and since it's running the brand new Symbian 3 OS, it will likely be laden with bugs as all first-time OS are prone to have. (Engadget and CNet reviews)