AfriLabs is a network of the tech hubs and labs across Africa. The labs serve as an accessible platform for bringing together technologists, investors, tech companies and hackers in their city. Each lab shares a focus on entrepreneurs, Web and mobile-phone programmers and designers.
Bill has put together an excellent blog post on how we're growing the AfriLabs network. We've moved from the original 5 to 14 labs and hubs across the continent.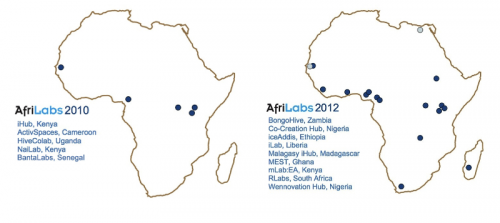 iHub – Kenya
Hive Colab – Uganda
ActivSpaces – Cameroon
BantaLabs – Senegal
NaiLab – Kenya
MEST – Ghana
iceAddis – Ethiopia
Co-Creation Hub – Nigeria
iLab – Liberia
RLabs – South Africa
BongoHive – Zambia
Malagasy i-Hub – Madagascar
m:Lab East Africa – Kenya
Wennovation Hub – Nigeria
Applications are open, and we hope to induct more African tech hubs into the AfriLabs Association in the coming months. I hope to see Kinu (Tanzania), OutBox (Uganda) and Jumpstart (Zimbabwe) apply.
An AfriLabs Director
We're looking for AfriLabs first director, someone who understands the tech hub models and is able to help build the network, connections to it from media and investors and be a general connector for everyone. It's a challenging position that requires someone who is good at community building, and can speak well with international corporates, foundations and media.
The AfriLabs Director can come from any country in Africa, and the HQ for AfriLabs is wherever the AfriLabs Director resides.
Funding for this position has been provided by our partners at Hivos. We're seeking further funding and partners as the AfriLabs network grows, so if your company or foundation is interested in working with (or promoting) technology spaces across Africa, do get in touch.
Research on Africa's Tech Hubs
Since we started the AfriLabs network, tech communities in many countries in Africa have started their own spaces. These range in model and makeup, from incubation and training spaces like MEST Ghana to co-working environments such as ActivSpaces in Cameroon, and community spaces like the Co-Creation Hub in Nigeria. Governments have gotten involved with places like the Botswana Innovation Hub here in Gaberone, and some academic institutions are jumping in as well like we see with the Strathmore iLab in Nairobi.
The iHub Research team has started doing case studies on the labs, and have started a research paper on the Impact of ICT Hubs (PDF) (this first one on the iHub). They'll need further funding in order to take this to some of the other tech hubs across Africa.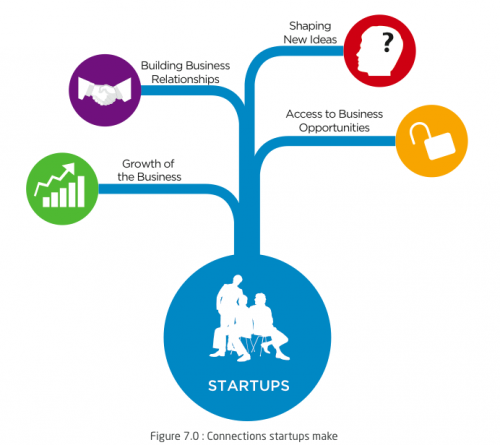 This is estimated to be a 3-year-long study on 15 selected ICT Hubs across Africa. The main objectives of the study are to:
Short-term objectives:
Investigate what factors make up the ICT Hubs model;
Understand the entrepreneurs/start-ups and the value of the ICT Hubs to their business ideas through a representative sample size representing the different membership tiers;
Assess the impact of the Hub to an individual member based on the different memberships categories;
Survey the factors that make the members to continue to use the space.
Long-term objective:
Compare the different Hubs/Labs and the unique factors in each that make it to work;
Study the Impact of the ICT Hubs on the economy's development that is adoption of new technologies and innovations of employment leading to improvement in the living standards.
Supporting Organizations
Initial funding to get AfriLabs off the ground was through Hivos, who also supported the iHub back in 2009 before anyone believed that a tech hub in Africa could really work. They continue to support the ecosystem through funding the AfriLabs Director position (mentioned above).
One of the organizations that has really stepped forward to help give seed funding to the new tech hubs is Indigo Trust. They recently convened a meeting in London where they flew in a number of the managers from these facilities to meet and talk about what would be needed. This was the same type of discussion that was had in Nairobi with another group of tech hub leaders at the Open Innovation Africa Summit.
Google, Omidyar Network and infoDev have also been strong supporters (monetarily as well as other resources), with multiple hubs and labs. We seem to have reached the point where there is enough critical mass in the number of tech spaces, and enough support for them from corporates and foundations.
AfriLabs serves as a great vector for all of this to come together, applying resources to help liase and coordinate the communications and events between the tech hubs, and at the same time providing that larger target for media, investors, corporate and funding partners to find the initiatives in each country.