I often get asked what the iHub is, what happens here, and why it has worked. Often followed by the question of whether or not this model could work elsewhere in Africa. Here are my thoughts on the matter.
The iHub is Nairobi's nerve center for technology; a place where we can grab coffee, create apps, find funders and build businesses. It's where the community of web and mobile programmers connect with each other, businesses, the government and academia.
[TLDR version: Championed by credible people, alongside advisors from the community. Experimental mindset. Strong connections to corporates. Strict community focus.]
A brief history
There was a discussion at Barcamp Nairobi 2008 about how valuable it would be for the Kenyan tech community to have a static space of our own. No one would fund that idea. My organization, Ushahidi, decided that we liked it the idea enough that we would fund it. It fit with our overall thoughts on being "open", it would serve as Ushahidi's home in the region, and most of all, we thought we could use our good fortune to find and help the next startups in Kenya.
Thus, I moved back to Nairobi in 2009, with funding from Ushahidi via Omidyar Network and Hivos, to build the iHub. I quickly selected a space, and picked the energetic and gifted Jessica Colaco as the Manager. In March 2010 we started work on the space, and in June it was open for use.
Though we had provided funding for the first 2 years, the iHub is an independent Ushahidi initiative. Meaning, that it runs outside of the normal Ushahidi operations and organization. Though the Ushahidi team has full access for the space, we have a very light footprint, and use it the same way everyone else in the community does. We knew that even though we were the most neutral of parties, with a ton of local credibility, trying to "own" the space would fail – just as it would if it had been named the "Google iHub" or the "Nokia Innovation Hub". It had to be owned by the community, and that meant name and usage both.
The community
At the heart of all that happens at the iHub is the community. They designed the room layout and logo, run the network, hold events, built the website, create the house rules and drive the direction of the space. The management of the space is there to provide basic infrastructure support, a foundation, which the community then builds on to make the space what it is today.
What's important to understand is that we come from this community too, we are it. We knew it could work because it was ourselves we were building for. When people ask me if I could do the same thing in another city, I respond that it would be questionable. A space like the iHub needs to be put together by someone from that community of techies who understands at a basic level the needs and has the credibility within it to make it happen.
As the iHub grew, we realized that all of the administrative duties, mixed with community interaction, were too much for one person. Thus we brought on Tosh to be the community manager, where he is in charge of working with people, memberships and events. His job is to aggregate, translate and enable the communities needs.
The advisors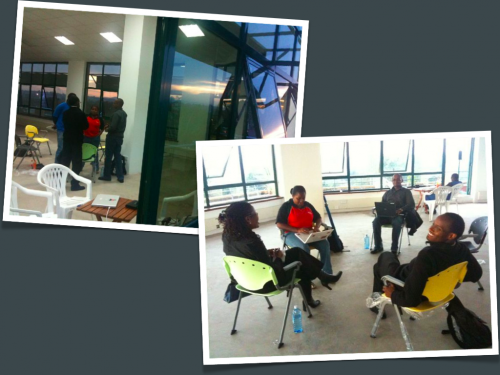 That "being part of the community" was what drove me to start looking for a small team of advisors who could help make decisions, especially early on. This iHub advisory board was made up of 4 influential and highly credible technology players from Nairobi, plus myself. The greater community could appreciate that they were being represented well, and it provided a small enough team to move quickly.
Initial roles for this team were to make the final decision on build out design, logo and name, as well as figure out how to deal with an influx of members in a tiered membership model if the need arose (and it did, quickly). With over 4,300 white-level members, this team is also responsible for making the decisions on who gets green-level membership, the people who ultimately get to have free and unfettered access to the iHub facility.
The design
The design of the space was very important, and we were lucky to have Fady Rostom and Kwame Nyongo to lead the design team. They spent a lot of time listening to the ideas and thoughts of the advisory team before they started drawing, and it shows in what was built.
We needed a place that was open, and could be flexibly turned from community commons to event space. We wanted a subsection of the space to be rentable desks, for pre-incubation and co-working activities. At no time was a coffee shop not included – it was seen as core to the vibe and culture of what would happen here. We'd need a secure server room, and plenty of ethernet and electrical points, both inside and outside.
Most of all, the iHub needed to be a place where Kenyan techies were proud of. A place that was uniquely ours, and that we could show off to our visiting friends from abroad. It had to have the feel of being any high-tech community space in the world, with a Kenyan flavor. And it is.
The sustainability strategy
Early on we had no idea how we would pay for things beyond the first 2 years. We projected costs, but didn't know where the revenue would come from. We had some ideas, but instead of creating a grand plan, we decided to take a very experimental approach, iterating on what worked and killing ideas that didn't fit.
Right now the iHub has revenue coming in from red members (co-working desk rental), events and the new research arm. Events and desk rental were obvious and worked from very early on. The R@iHub arm didn't come into being until January of this year, and was very much a big experiment – which appears to be working marvelously well. Jessica's background is as a technology researcher, and she's built a brilliant team around her to focus on this. Already we can see that 50%+ of future income will come from this initiative.
The other experiment was taking lead on the m:lab, a space the same size as the iHub which sits one floor beneath us. It's an incubator. It plays the iHub's foil, where upstairs is about community, openness and fun, the m:lab downstairs is about professional tech companies building quality products and making it into the market. We took the lead on the consortium behind this, and it is seen as a sister-facility to the iHub, with many shared services between the two.
The corporates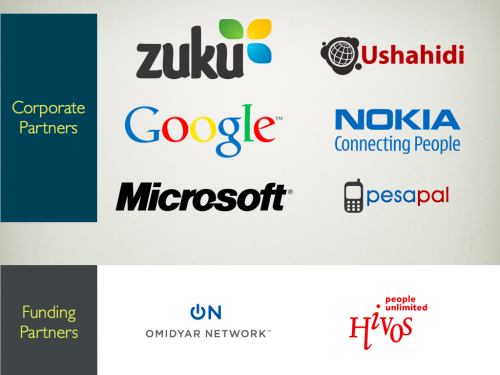 Both the iHub and the m:lab have strong corporate partners. Early on, before the first brush of paint was dry in the iHub, we had started talking to big technology corporates who call Nairobi home. Large tech corporations need an active dev community, and the dev community needs them. Luckily, Kenya is geographically well-positioned for some great companies to make it their home in the region, which worked well for us. We also happened to know a number of them personally, which sped up the discussions and interactions considerably.
We didn't want to just have corporate partners who were sponsors. We made it very clear early on that their money was less important to us than what value they could add to the space that would help the dev community, but that it was a 2 way street. If we couldn't facilitate a strong value back to them from the local tech community, then it was a no-go.
Fortunately, despite our lack of a clear idea of exactly how things would work, or what our metrics of success would be, we found some great patners. Nokia, Google, Wananchi and Microsoft are corporate partners with the iHub, and downstairs we have MIH, Nokia and InMobi working with us.
A small aside here, which isn't corporates, but we've also nurtured strong connections with the Kenyan government, though we take no money from them. This also applies to academia.
Final thoughts
By the end of 2010 people were already claiming that the iHub was a model for technology engagement, aid stuff (gah!), etc… in Africa. I thought that was a premature statement, it was an experiment and it still is. The success of the iHub has come from a strong foundation of advisors and community members who understand their city, their peers and their region.
The success of other tech hubs across Africa will be based on leadership credibility, and ability to engage their community.
Much of the iHub's success comes from a community that works together. In that spirit of "harambee" that is so much a part of our Kenyan life. While there is always healthy competition, we would rather work together and celebrate each others success, and ultimately help each other along with the knowledge that if more of us succeed, then we all benefit.
I hope to see many more labs and hubs across the continent, and we're seeing them grow too, in Cameroon and Ethiopia, Uganda and Nigeria. Though some of them will need financial assistance to get going, like Ushahidi did with the iHub, they're organic growth is what makes them viable.