Last week I got a visit from Peter Afam Emeleogu, an old contact from TED Africa in 2007. We've both been busy in the intervening years, exploring how technology can be used to overcome inefficiencies in the system. Peter's journey started when he realized the market value of mobile credit as a currency. In Nigeria, mobile payment systems weren't licensed by the Nigerian Central Bank until December 2010, 2 months ago. So, until this time, mobile payment and transaction entrepreneurs had to be highly creative in order to meet consumer demands – thus the use of mobile credits as cash.
In December, 16 companies were given a provisional license to do mobile payments and banking. 6 of them are bank linked, and 10 of them are independent. A truly hot climate for mobile banking is emerging in Nigeria, where all players were forced to start at the same time, no matter their size or reach. Notably, only one mobile operator was included, MTN.
"only 21% (22 million people) of the adult population in Nigeria has a bank account, while 74% of the adult population (approximately 64 million people), have never been banked… Nigeria has proven a huge market for the adoption of mobile telephony. With almost 80 million mobile phone users."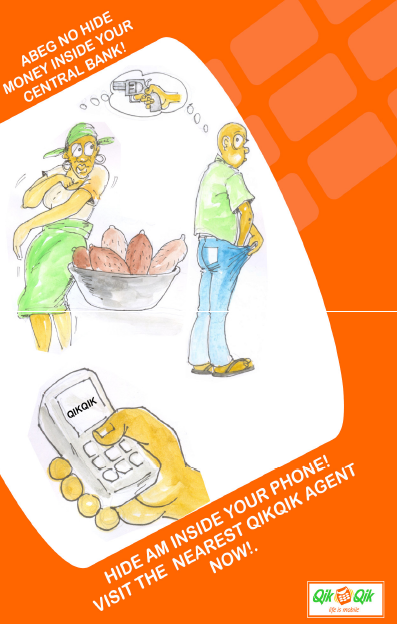 Peter is one of the principals for one of the ten independent companies who got a license, Eartholeum Networks, and it's home to their QikQik product for mobile banking. They've had over $1m in investment to date, and like all of their competitors are scaling up as quickly as possible. Who ever executes fastest (and maybe best), and gets critical mass in the market, will win.
Some of the services that QikQik supports:
Person to person Transfer of funds
Payment for goods and services
Mobile phone can serve as POS Terminal
Cash withdrawal from ATMs
Purchase of airline tickets, bus tickets
Purchase of Telco recharge tokens and other e-tokens (PIN)
Tax payments and confirmation for Governments
Payment of bills
Internet payment identity/authentication
Payment of insurance premiums
Link existing bank accounts
Inward remittance of foreign exchange
One lesson from Mpesa's success in Kenya is that you need to quickly reach critical mass with consumers, and that's only done with a big investment in the agent network, making it easy for people to use the system.
Eartholium's main focus is to enable third-party outlets such as post offices, retailers, petrol Stations, quick service restaurants, neighbourhood shops and pharmacies as QikQik Agents to perform functions such as customer due diligence for account opening, basic cash deposit and withdrawal in addition to transactional or payment services in areas where banks and other financial institutions do not have sufficient incentive or capacity to establish formal branches.
The race is on, and I'm very interested to see who will win this most populous and lucrative market in Africa.