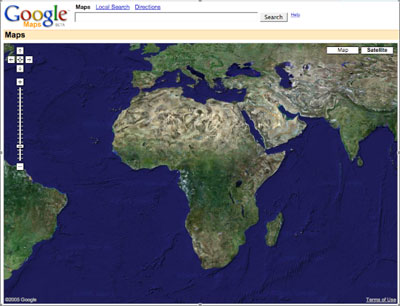 Google released their Google Maps of the US earlier this year. This last week they released the whole world. The zoom level of the satellite setting does not go in as close around the world as it does in the US at this time. I'm assuming that over time areas will be updated and zoomed in on. Being a White African, my first poke at the tool this week sent me to check out Nairobi, Kenya: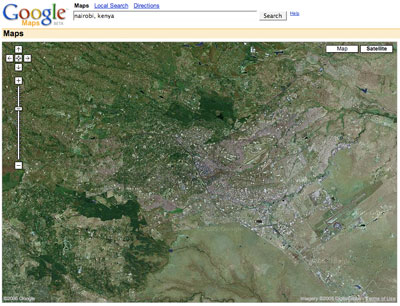 I highly recommend playing around with the mapping system. Google actually offers a downloadable map program that is great for the US, though limited for overseas stuff at the moment called Google Earth. Here's their speil on it:
Fly from space to your neighborhood.
Type in an address and zoom right in.
Search for schools, parks, restaurants, and hotels.
Get driving directions.
Tilt and rotate the view to see 3D terrain and buildings.
Save and share your searches and favorites.
Even add your own annotations.
I can't help but think that there are some third-world dictators who are not very happy about this.