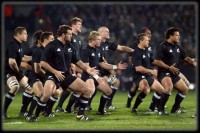 I was all set to write a new tech/Africa piece, then MentalAcrobatics goes and writes a story about the upcoming rugby season. That wouldn't have been enough, but he mentioned a new New Zealand All Blacks Haka (define). I've always loved that tradition – talk about intimidation before a match!
Video footage of the new Haka.
Video footage of the old Haka.