I started beta testing Pando today, a client-based file sharing application. I guess I didn't pay enough attention during the beta signup, since I thought it would be 100% web-based so was a little surprised that I had to download a file to get it rolling. I currently use eSnips, which is built more for file storage, so I'm hoping that this works well for those 20+Mb files that I sometimes have to mail between work and home.
I've sent one file so far, a total of 27 Mb, and it seems pretty slick. The user interface was designed very well and is very intuitive. I like how easy it is to go through my files and drag-and-drop them into the Pando upload folder. Figuring out what you need to do to send a file is really very simple. See screenshot below for reference: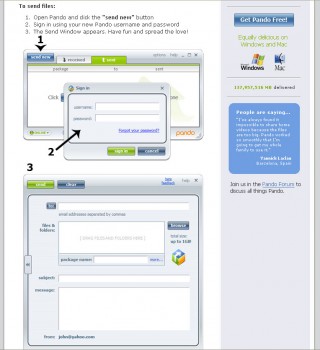 "Beta currently limited to 1GB per package", states the Pando Beta website. That's pretty freaking large if you ask me. I'm not sure I'll be sending any 1GB files right away, but nice to know that I'm limited to that amount… Heck, that's almost half the size of my GMail account and the same size as my eSnips one.