I've had a running battle going between two web-based software applications that I really like for project management. SideJobTrack and Basecamp are both quality products that I've really come to enjoy using. However, for my freelance style of work, SideJobTrack takes the prize.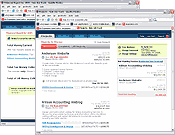 Influencing my decision are two very important elements. First, I'm a web marketing strategist that (now) works for a large corporation, which means I need a piece of software that I can use to track my side jobs. I don't need to track many projects, or even very complicated ones, just a simple tool to help me keep organized. Second, SideJobTrack is free while you have to pay a minimum of $12/month for Basecamp.
SideJobTrack makes it very simple to add new tasks and billing associated with them. Their use of AJAX within the project management area is intuitive and really makes the whole process a breeze. Invoices are created in a format that allows you to email it out immediately, or apply your own styles to it so you can add your own custom field. Overall, a very well designed product that has all I need to do my side jobs.