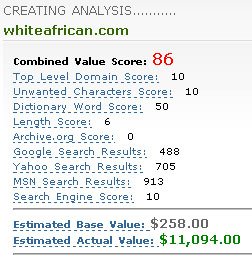 Have you ever wondered what your domain might be worth (if you own it, that is)? If you're on blogger or myspace, or some other hosted website, I'm sorry but you probably don't own your domain and are out of luck with this.
Well, I came across LeapFish, which will do a free domain name appraisal for you. It's based of of a number of values, and seems to come back a little inflated. I did a bunch of the domains that I own, some active, some inactive and they all seemed to come back a little more than I thought they were worth.
The truth is that domain value is really grown. Sure, there is inherent value in a short domain name that is a real word, but the exponential value comes from the content and community of people who link to you and grow your domain.
Here's a fun exercise for you, enter your organization's domain name and see it's value. If you have one with a million links in from Google, you'll find it's probably appraised at a couple hundred thousand dollars.