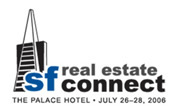 This week I'm in San Francisco at one of the larger real estate conferences in the US called InMan Real Estate Connect. First impressions: it's really interesting to watch the real estate industry grapple with what the web is doing to it.
Due to there being some confusion around registration, I missed Michael Arrington of TechCrunch fame give his presentation " Real Estate Technology—What Is Driving Development?" Hopefully some other blogger was able to make it.
Brad Inman has talked about transparency, and how the internet is changing the industry. Onc CEO of a Web company told us that "the Long-tail is dead for real estate" – this was great because a director from Google and a VP from Yahoo were at the same table.
I'm currently listening to the executives of Zillow talk about why they started and what they're up to.