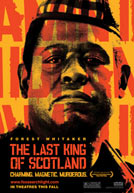 A couple years ago I bought a book about a Scottish doctor who is made the personal physician of Idi Amin called The Last King of Scotland, by Giles Foden. Unfortunately, I haven't actually read it yet.
It turns out that Fox is releasing this story as a movie, and from the trailer it looks pretty good. Take a look at the preview on Apples Quicktime site and see what you think. It was a barbaric time, but one that should be remembered.
Here's the summary:
In an incredible twist of fate, a Scottish doctor (James McAvoy) on a Ugandan medical mission becomes irreversibly entangled with one of the worldÂ's most barbaric figures: Idi Amin (Forest Whitaker). Impressed by Dr. GarriganÂ's brazen attitude in a moment of crisis, the newly self-appointed Ugandan President Amin hand picks him as his physician.