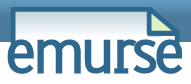 I was really fortunate to run into Gavin and Alex at last week's BlogOrlando conference. They are the makers of a resume management tool called Emurse.com, a word-play on the word "resume". The application was launched only 2 short weeks ago, and I've been told that 2 offers for buyout have already been made.
Last night I finally got around to testing Emurse out, and I was very impressed to say the least. You have the option of uploading a resume to the system, or creating one from scratch. I chose the latter and simply copied and pasted most of the content from my old Word Doc resume to Emurse – this would allow me to come back at later dates and edit it as needed. The whole process was easy to figure out and had helpful pointers in every section.
A few of the things that you can do:
Host your resume on your own "http://_______.emurse.com" page for easy reference by potential employers (you can password protect this if you like)
Save multiple versions of your resume for different types of job opportunities
Send your resume by email, fax or post office
Download your resume as a Word file, PDF, OpenDoc, RTF, HTML or Plain text
Add or remove fields as needed
See statistics of how many people have viewed your resume
Track who has seen your resume, and also track where you are in the hiring process
The business model is built around an annual subscription model. You can host 2 resumes for free, but it will cost your $25/year to host up to 10 resumes and will give you access to "premium templates" and the statistics package. At $99/year you can get unlimited amounts of everything.
So, why is all this important? I never knew that I needed a tool to help me manage my resume anyway, and if I did there was always Monster.com or Careerbuilder.com to do that. What Emurse has done is provide a tool specifically designed to put you in control of your resume, allowing you to build and edit it in a user-friendly manner, and also controlling who sees specific resumes.
Applications like this go to show that if you look at a field and find a niche, you are more than likely going to find an area that is underserved, or served in an inadequate manner. By executing on a solid idea with laser-focus, you can make a real impact.