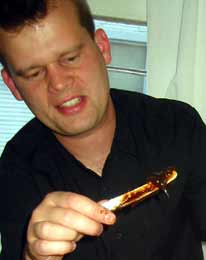 An Australian news site is stating that the US has banned vegemite. Thank god for that! If you haven't tasted this oily swill before, just be glad that you have been saved the horrors. Vegemite, is closely aligned with Marmite in my mind – both are disgusting and are not fit for human consumption.
Here are some quotes on Marmite. Substitute in "Vegemite" everytime you see the word Marmite, and you'll be right on target:
When I first came to this country I went to a friends house. He wanted a snack so he made himself some Marmite and toast. Being a naive yank and only 11 at the time I asked him what it was. He told me it was chocolate spread and gave me a spoonfull to try. Needless to say, I almost barfed on his toast.

I've never eaten it since and will never eat it again. It's the most disgusting, vomit inducing, turd coloured paste you can imagine.
Marmite is hell on toast produced by the devils own satanic herd…
I breathe deeply, raise the toast to my mouth and bite.

That is not good. Not nice at all. It's very salty and tastes vaguely alive. It's like bad caviar blended into a paste. It tastes like the crust on a three year old bottle of Worcestershire sauce. The butter, it does nothing. I chew on. It doesn't improve.
Marmite = Horrid English goop…. resembling axle grease. Made from dead animals.
As you can tell, I'm no lover of Marmite, Borvil, Vegemite, or any other greasy looking spreadable substance. If you have any great anti-Marmite or anti-Vegemite quotes or stories, please write them here. I think I'll start a collection.
[Update: Unfortunately, it appears I could be wrong on this – Snopes Report.]