TEDGlobal in Tanzania this year was a real eye-opener. I had never, and likely won't ever again, see a conference put on at that level. Everything was done top notch, no expense was spared – and everyone went away charged up from the atmosphere that was created. (I wrote about getting spoiled previously)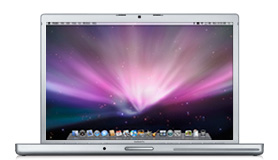 Well, once again, TED and their sponsors have pulled through. Google and AMD promised all of us TED Fellows a Mac or PC, and I just received my confirmation receipt from Apple today (also confirmed with TED). My new 15″ MacBook Pro is in the mail, and should be here this weekend. I'm stoked!
Once again, they didn't stint on the gift. They easily could have given us the smaller, cheaper version – instead we get the top-of-the-line computer that does everything we need.
[update: Tom sent an email stating, "Since you waited so long, we upgraded everyone to MacBook Pros and you'll get Leopard for free."]
Thanks Google. Thanks AMD. Thanks TED.
In the spirit of this gift, I too will be gifting my current computer to someone else.