I've been tracking a site called Jamati, an African entertainment portal, for a little while. Sitting out in Nairobi last week, I got an email wondering if I wanted to talk to the founder, a certain Elias Mageto, who happened to be in town from the US at the same time. Good timing!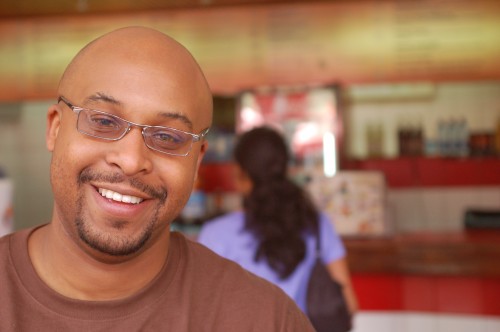 "We want to be the go-to network for the diaspora."
I thought Jamati was new. It isn't. In fact, it was first launched in 2001, relaunched in 2005, and then relaunched again in 2007. The fact that I finally heard about it last year is proof that Elias finally has found the right mix to make it work.
Elias is Kenyan, with an American mother, and has no Kenyan accent at all (interestingly, a lot like a certain political candidate in the US). An unlikely background in Economics, time at the World Bank and Congressional Black Caucus wasn't what I was expecting to hear as the background to his entrepreneurial drive into online entertainment. However, he saw a niche needing to be filled and, over 7 years, has continued to try to crack it open.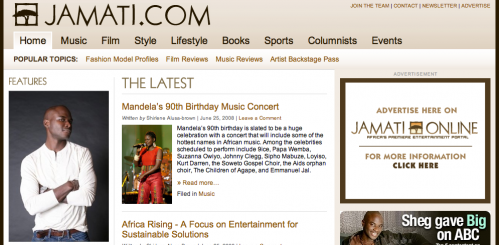 One of the things that Elias said struck me as very important for this type of pan-African portal play. That is, his seven-person team is made up of individuals from Ghana, Kenya and South Africa. Everyone in this space knows that it's a lot easier to be regional than continental, but a team makeup like this means it's easier to do. Those connections back into each major region are already there.
Competitively, two other new publishers,AfricanPath and African Loft, would seem to be the most logical comparison. However, knowing a little about both companies, I think they're all doing different things (right now, but there will be greater overlap as they grow).
AfricanPath is about African news, business and politics.
African Loft is about African diaspora community and African news.
Jamati is about African lifestyle and entertainment.
All bridge two worlds, with heavy readership percentages from the diaspora. It will be interesting to see which can grow as time passes, and more importantly, which can attract enough eyeballs for advertisers to start funding more growth.